Dowsett upstaged by Miles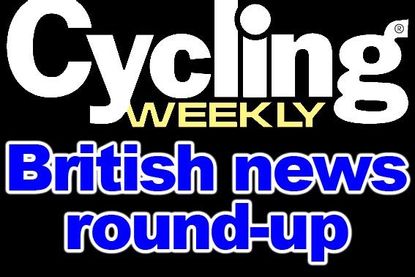 DOWSETT UPSTAGED BY MILES
New Livestrong recruit Alex Dowsett gave regular roller racing competitors more than they'd bargained for with an impromptu appearance at the Rollapaluza Winter League on Tuesday night.
Dowsett set a blistering time of 47-67 seconds for the kilometre. His time stood for a good few hours until Team Terminator's Miles Stovoid took to the stage to set a remarkable time of 44-58, more than three seconds faster than anyone else.
The next event will be close to the home of London track cycling at the Half Moon pub in Herne Hill on Wednesday February 3 from 6pm.
See www.rollapaluza.com/league2 for more.
Dowsett dons his roller racing face but it wasn't enough to beat Miles Stovoid


BRAVEHEART FUND PAYS OUT TO ASPIRING CYCLISTS
The Braveheart Fund has selected the 13 riders and four clubs it will support in 2010 with Commonwealth Games in Delhi fast approaching.
The funding is awarded to the development of potential world and Olympic champion (amongst whom are John Paul and Seb Batchelor); youth cycling clubs that actively promote cycling; Commonwealth Games medal prospects (which includes Evan Oliphant, James McCallum and Kate Cullen) as well as special projects in Scottish cycle sport.
"A committee of volunteers works the fund, but the people in control of how the money is spent are those who put their hands in their pockets by donating so generously at our annual dinner and throughout the year," said Brian Smith who created the Fund in 2002.
"There are some exciting prospects among those we'll fund this year," said Smith.
"Kenta Gallagher is a big talent; Alexander King, who was 11th in Junior Paris-Roubaix last year, is another; Eileen Roe and Charline Joiner are [also] both making good progress."
ENTRIES OPEN FOR FOREST OF DEAN SPRING CLASSIC
It may be several months away yet, but entries have opened for the Forest of Dean Spring Classic sportive on May 2.
To cater for popular demand for the event, entries this year have been increased to 1000 riders, an increase from the traditional 750.
"Since entries opened on January 1 we have seen a sharp increase in initial numbers from previous years," said event organiser, Graham Temple.
"With sportives becoming more popular we have noticed people are entering earlier and earlier to secure a place in their favourite event. As a result classic events like the Forest of Dean are due to sell out well before the day so we would advise entry as soon as possible to avoid disappointment," Temple added.
For more information and to enter on-line please visit www.forestofdeanspringclassic.co.uk. For more information on all Wheels in Wheels events see www.wheelsinwheels.com
WYMAN COMPLETES SQUAD WITH TWO FURTHER SIGNINGS
Stefan Wyman has completed the line-up of his new British women's cycling team with the addition of Alex Greenfield and Penny Rowsen.
A former junior European champion and current national Madison champion, Greenfield will be a handy addition to the team.
"It's a big signing for us," said Wyman. "It shows that we mean business and I think Alex can have an immediate impact in European races. I'm sure she'll be riding for Great Britain as well as Horizon Fitness during the season which is good for everyone.
"Her results speak for themselves, as there aren't many British riders that have managed to get a World Cup top 20, and even less of them did it as a first year elite. Let's hope for more of the same," he added.
Rowsen joins from the Mischief Card team that won the Women's Team Series in the UK this year and makes the jump to elite level riding.
The team benefits from further support from CycleOps and Prendas Ciclismo and will ride Kona bikes.
To follow the team's progress, see www.twitter.com/onthedrops
Thank you for reading 20 articles this month* Join now for unlimited access
Enjoy your first month for just £1 / $1 / €1
*Read 5 free articles per month without a subscription
Join now for unlimited access
Try first month for just £1 / $1 / €1