Dr Hutch: Now's the chance to show off your winter cycling knowledge
But if you're going to pick a fight with a new rider, says Dr Hutch, then choose your target wisely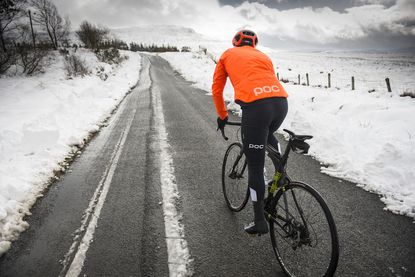 (Image credit: Andrew McCandlish)
So, here we are. We've emerged from the hurly-burly of Christmas at racing weight, with 500 or so festive miles under our belts, not a trace of a cold, and in a land where ice never happens. Well done us.
It's the best time of year for the experienced rider. Not because the roads are quiet, because they're not. Not because we can criticise others for their inadequate mudguards, though I admit it's a considerable bonus.
But because now, months away from the season, we can explain the rules of winter riding to less experienced riders, and nothing offers the same buzz as educating the newcomer.
We can condescendingly explain how fast they should go, what they should wear and how exactly the tone of voice they shout their warning of "hole!" in should tell the rest of us how deep it is, where it is, the angle of the sides, and whether we need to hop over it.
>>> Dr Hutch: My annual cycling awards go to…
The technical term for most of this is either 'education' or 'mindless bullying', depending on your point of view.
Some riders are easier to educate than others. This time of year always reminds me of a January morning when a new face arrived at the club run. The ground was sparkling with frost, our breath hung in clouds, and the pastel yellow of this bloke's summer jersey and shorts set off the blue of his arms and legs a treat.
Just warming up
"You should get some proper kit, you idiot," barked my friend Bernard, who had appointed himself headmaster.
"I'll warm up when we get a bit of a sweat on," he said.
"Humph!" said Bernard.
"We'll see about that."
http://www.youtube.com/watch?v=6gpL2buRN3A
Bernard led us off at a pace clearly designed to give this guy hypothermia. Toddlers on balance bikes came thundering past us. In spite of Bernard's best efforts to marshal the group, the pale-blue rider bustled to the front up the wrong side of the road towards the honking horns of oncoming traffic. "I want to do my share of the work," he said.
Eventually our new friend cracked, and bolted off to the front in an attempt to warm himself up a bit. "That's got rid of him," said Bernard. He was wrong. A few moments later a blue-and-yellow comet came back towards us, hell-for-leather.
He pulled a U-turn straight in front of the group, causing a massed jamming on of brakes and a lot of swearing, and joined us again. Then he buzzed off the front once more, and came back. He repeated the process several times. It was like having our own idiot press-motorbike wherever we went.
"Why did you even bother coming out with us?" Bernard asked him. "Clearly you'd be happier on you own!"
Detour de France
"As you can see, I'm pretty quick, or at least quicker than you lot," said the fledgling. "I want to do the Tour de France. If I don't practise riding in a peloton I might end up with people yelling at me."
>>> Dr Hutch: The terrible and sometimes great teams kits of the 90s
"Well, I'm sure you wouldn't want to risk that," said Bernard.
A mile or two later, Bernie had an idea. "Normally, after the next village, we pick up the pace a bit," he said to our newcomer. "We throw in an attack or two, someone goes off the front and then we try to chase them down, that sort of thing. Bit of race training. Be a good idea for you to join in."
In due course, Bernard launched an attack. His friend followed eagerly, and rapidly overhauled him. As soon as Bernie was safely a bike length behind he signalled left and swung into a side road.
We all followed him, and the newbie whizzed off alone. Bernard's timing was exquisite.
"What an astounding quality of patronising moron," said Bernard.
I like to think our new friend, when he realised what had happened, said exactly the same about him.
Thank you for reading 20 articles this month* Join now for unlimited access
Enjoy your first month for just £1 / $1 / €1
*Read 5 free articles per month without a subscription
Join now for unlimited access
Try first month for just £1 / $1 / €1