Dr Hutch: My annual cycling awards go to...
Dr Hutch looks back at the 2017 cycling season and gives kudos to the year's cycling standouts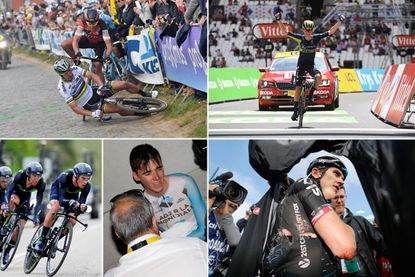 As nothing interesting in the world of cycling ever happens at this time of year (I mean, who ever heard news of a rider returning an adverse urine sample in December), it's time to present the round up of the season. This year it is going to take the form of the coveted Doctor Hutch awards.
Unfortunately there are several awards we have to withdraw from the ceremony this time around. They include perennial favourites "Best Decongestant", "Best Brand of Padded Envelope" and "Best Appearance before a Select Committee".
So we shall start with the prestigious Nostradamus prize for far-sighted prediction, which goes to Geraint Thomas for his suggestion when he pulled out of the Giro d'Italia that at least he'd got his bad luck out of the way before the Tour de France. He hadn't. Not by a long chalk.
Next we come to "Best Celebration". This goes to Luka Pibernik of Bahrain-Merida for the exuberant way he crossed the line on stage five of the Giro d'Italia. It was only slightly marred by the fact he still had a full lap of the circuit to go. A more conservative rider might have divined a clue from the bell that was being rung.
>>> Dr Hutch: The terrible and sometimes great teams kits of the 90s
Missed opportunity of the year to ASO for yet another weak format for La Course. An event that should be instrumental to attracting interest to women's cycling ended up climaxing with a one-horse time trial in Marseille. Annemiek van Vleuten was a worthy winner, but it should have been so much more. Perhaps it's time to try running a proper bike race.
The award for "Improbable Career Move" goes to Sir Bradley Wiggins, who in February was reported to be thinking of taking up acting. "I was offered a part in EastEnders," he said, "but was too busy to do it. But it's something I'd be interested in pursuing." Subsequent events have led some unkind wags to suggest he might be a better fit in CSI Sky.
The gong for "Worst Time Trial" goes, as it always does, to a French rider. In this case it's Romain Bardet for his effort in the final TT of the Tour de France. He came up against the hottest of competition from Nairo Quintana. But while neither of them is a naturally gifted TT rider, Bardet combined his lack of physical aptitude with the kind of wildly overambitious pace judgement not seen since the 1990s.
Baffled in Bergen
Still in the time trialling arena, the award for "Best Use of a Carpet Sample" goes to the organisers of the men's World Championships event in Bergen. Their "changing mat" at the bottom of the final climb provided confusion and hilarity in equal measure.
The "Conservation of Momentum" award goes to Movistar for their intra-team shoving at the Tour of Catalonia. They also receive the Graeme Obree special award for prompting panic and confusion among the commissaires, who produced three different decisions about this in quick succession, giving us four different leaders of the race in 24 hours.
The jury was tempted to award the Catalonia commissaires the prize for "Most Confusing Event" for the same incident. But instead it plumped for the Hammer Series, which had as its grand finale a bunch-sprint team time trial.
It was as magnificent as it was bewildering.
The award for not being very interesting goes to the Tour of Britain. You know your route has missed the mark when the highlight is a 10-mile time trial in Clacton. Honourable mentions in this category to Wiggins's appearance on The Jump, and to the UK Anti-Doping report on Team Sky.
>>> Seven bold predictions for the 2018 race season
"Best Doping Excuse" goes to British amateur Stephen Costello, who claimed his wife had been spiking his smoothies. Since he tested positive for 1,3-dimethylbutylamine, Ostarine, and the highly experimental (and carcinogenic) GW1516, you'd have to reckon his wife is worth a tenner each way for the next Nobel Prize in Physiology.
The award for the highest ratio of "Interest at the Time" to "Interest Now" goes, as it does every year, to the Tour Down Under. A very fine race it may be, but if you can remember who won it last January, you may consider yourself a cycle racing nerd. If you can remember full details of how the race unfolded you should probably come and work for Cycling Weekly.
"Hardnut of the year" is always a tightly contested category. This year it goes to Lauren Dolan, who finished the junior women's TT at the World Championships, despite crashing and giving herself the sort of exfoliation you'd normally expect with a sand-blaster. Chapeau, Lauren.
Taxi for two
The Vincenzo Nibali award for exceptionally durable car door handles goes to the supplier of Ag2r La Mondiale team vehicles, after Alexandre Géniez and Davide Denz were filmed hitching a very considerable ride on stage 15 of the Vuelta.
Best bike handling. This year the jury was unanimous in awarding it to EasyJet, whose baggage handlers were videoed in March dropping bike bags several feet on to the concrete airport apron. The same airline was also accused by Aqua Blue Sport rider Peter Koning of essentially snapping his bike in half in May. (The rumour that EasyJet had received a secret award from the Confederation of Major Carbon-Fibre Bicycle Makers is, I'm sure, completely baseless.)
>>> Dr Hutch: Should you wear a helmet? It is entirely up to you
The award for "Biggest VO2 Max" goes to the Shetland pony that joined the peloton in the Tour of Poland. It galloped along for several hundred yards, before being elegantly herded into a side road by Ivan Savitskiy of Gazprom-RusVelo, who therefore receives the rarely awarded "Reining King of Cycling" prize.
"Cloakroom Attendant of the Year" to Peter Sagan for so elegantly collecting a spectator's jacket on his handlebars at the Tour of Flanders. Just a shame he got so much mud on it seconds later when it caused him to crash.
And finally, the "Rider of the Year" is, entirely unironically, Katie Archibald. And no, she doesn't get "Cycling Weekly Columnist of the Year" as well.
Thank you for reading 20 articles this month* Join now for unlimited access
Enjoy your first month for just £1 / $1 / €1
*Read 5 free articles per month without a subscription
Join now for unlimited access
Try first month for just £1 / $1 / €1