'Ed Clancy will win Olympic team pursuit gold but shouldn't ride the omnium'
Track world champions Mark Cavendish or Jon Dibben should ride the omnium for Team GB at the Rio Olympics instead of Ed Clancy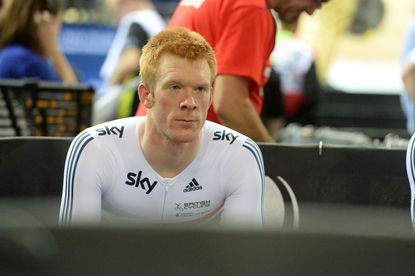 Great Britain will win team pursuit gold at this year's Rio Olympics, but their main rider Ed Clancy should not ride the omnium, according to John Herety, Clancy's manager at his trade team JLT Condor.
Clancy is going for a record breaking third successive team pursuit Olympic gold at Rio in August, and he is also one of three potential options in the omnium.
The Barnsley-born rider claimed bronze in the event at the 2012 London Olympics and appeared to be a certainty to fill the spot for this year's Games, until a back injury last autumn put him out of contention for the Track World Cup races.
But with Mark Cavendish hoping to secure the spot for the event - he came sixth in the event at the Worlds - as well as World Championships Points race winner Jon Dibben, the selectors have a difficult choice to make.
Herety believes that Clancy's importance to the team pursuit means that he should forgo his spot in the omnium: "He's a still a contender [for the omnium] but it will be subject to the injury and how that's progressed, as well as how key he is to the team pursuit," Herety told Cycling Weekly.
Does a skinsuit make you much faster?
"Unless anything has changed since I last spoke to him after the Worlds, the team pursuit was his number one goal and after that anything else he got to ride was a bonus. But he doesn't want to give his [omnium] spot up and he wasn't willing to let it go without a fight.
"The injury changes things: is there enough time to do both? British Cycling will make a decision if he should do both. My personal opinion is that he should concentrate on the team pursuit and get that gold medal."
Clancy made a surprisingly quick recovery from his back inury and was pivotal in leading GB to a silver place at the Track World Championships earlier this month behind their long-term rivals Australia. He, along with Sir Bradley Wiggins, appear to be the only two riders out of a possible eight guaranteed a ride in Rio.
"The Worlds, where he came from, was phenomenal," Herety went on. "No one knew where he was in his recovery, it was kept fairly quiet which was intended.
"He'll definitely be in Rio and if they can do what they did at the Worlds, I'd be very surprised if they didn't win gold. They're still in their training phase and nowhere near their peak."
His ability to build gold medal-winning pace in the first few laps is what makes him a sure starter - fitness-permitting - as one of the four riders.
"He has been the number one guy: the guy who gets them up to speed in the shortest amount of time without doing any damage to the other riders. That is a crucial element of the team pursuit which no one else can do; not even Bradley can do it," Herety added.
Thank you for reading 20 articles this month* Join now for unlimited access
Enjoy your first month for just £1 / $1 / €1
*Read 5 free articles per month without a subscription
Join now for unlimited access
Try first month for just £1 / $1 / €1