Eddy Merckx Cycles reports multi-million euro loss in 2016
Eddy Merckx Cycles increased its sales but reported a loss of income, attributing it to less people buying bikes.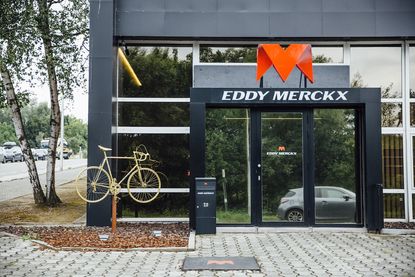 (Image credit: chris catchpole)
Eddy Merckx Cycles has doubled its sales in the past two years - but has reported a multi-million euro loss for 2016.
The bike company, which the legendary cyclist handed control over to Diepensteyn NV in 2014, sold close to €9m of bikes last year, continuing the trend set in 2015 of increasing the number of bikes it sells. However, it expected to sell even more.
Overall interest in the road race market diminished, affecting the company harder than they anticipated. They thus generated a loss of €5.7m.
>>> Eddy Merckx: the man behind the legend
Eddy Merckx Cycles is now running a deficit of more than €17m euros, which is largely due to the sponsorship of the Quick-Step Floors team that ceased in 2012.
Diepensteyn committed more than €27.7m last August, up from €14m, to strengthen the company's finances.
"The market for road race bikes dropped by 25 percent last year and a specialist in this category we were hit unexpectedly hard," Bart Van Muylder, chairman of the brand and CEO of Diepensteyn NV, said according to Bike-eu.com.
"We were not able to compensate our decline in turnover in other bike categories as we are 100 percent dedicated to the road race market.
"Our turnover was stable, although we anticipated on a growth in sales. Still, we are proud we have doubled our sales over the past two years and still believe in the future of Eddy Merckx Cycles."
Thank you for reading 20 articles this month* Join now for unlimited access
Enjoy your first month for just £1 / $1 / €1
*Read 5 free articles per month without a subscription
Join now for unlimited access
Try first month for just £1 / $1 / €1