End of the road for Mark Cavendish's Olympic track hopes, says Sutton
British Cycling technical director Shane Sutton admits Mark Cavendish is unlikely to now qualify to race on the track at the Rio 2016 Olympics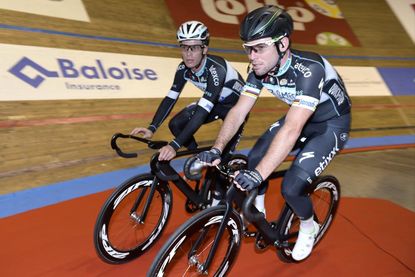 (Image credit: Graham Watson)
Shane Sutton is not holding out any hope of Mark Cavendish returning to the track for next year's Olympic Games, with the Manxman seemingly having made up his mind to focus fully on the road.
British Cycling's technical director said that Cavendish had been seriously mulling over a shot at making the Rio 2016 track team.
>>> Mark Cavendish sees Rio Olympic dream fade away
But speaking ahead of the UCI Track World Championships, Sutton admitted that it's likely to be the end of the road for Cavendish's Olympic track ambitions
"I know Cav and if he says he ain't going to do it, he ain't going to do it," Sutton said. "He knows the door is open to him. The funny thing was, there was a lot of 'Oh, I might do it' [last autumn]. He was liaising with certain people here, coaches etc etc. But then all of a sudden, a couple of weeks ago, it is a categoric 'no'."
"He is one of those born with the gift. He can do anything technically, he has been world champion on the track and the greatest road sprinter of all time. But unfortunately I think it is the end of the road for Cav. I think he has made his decision not to entertain it.
"There is no cut-off date. The road ends when he can't numerically qualify, simple as that. Until that point the door is open for Cav. But if he doesn't put the points on the board he can't qualify."
Thank you for reading 20 articles this month* Join now for unlimited access
Enjoy your first month for just £1 / $1 / €1
*Read 5 free articles per month without a subscription
Join now for unlimited access
Try first month for just £1 / $1 / €1