Endura and Raleigh tackle the Trossachs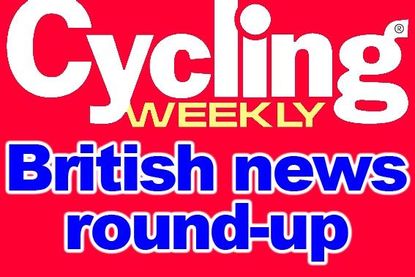 ENDURA AND RALEIGH TACKLE THE TROSSACHS
Endura and Raleigh will take on what is likely to be their final challenge ahead of this year's Tour Series, which starts next Tuesday (May 25) in Canary Wharf.
The two British squads are set to ride the Trossachs Road Race (Sam Robinson Memorial), a hilly, technical, 65-mile circuit around the Trossachs on Sunday (May 23) before heading south again to London.
Endura will send Evan Oliphant, David Lines, Ross Creber and Calum Wilkinson and will be up against some formidable local opposition, including Alex Coutts who is more accustomed to riding in Asia.
Meanwhile, Raleigh will be lead by Dan Fleeman, supported by Liam Holohan and Tom Barras, all strong climbers.
At the time of writing there are still four spaces available for the event.
More details can be found at www.glasgownightingalecc.org.uk
Raleigh's Fleeman relishes the slopes


ROMERO TAKES ON END TO END RIDE
Olympic track champion Rebecca Romero will team up with former rower James Cracknell and Paralympians Sarah Storey and Jody Cundy - along with 600 others - in the Deloitte Ride Across Britain: John O'Groats to Land's End to you and I.
Romero will lead the iconic 1000-mile journey across Britain in a bid to raise money for the ParalympicsGB (which supports Paralympic athletes) charity as well as clocking some valuable training miles.
"Taking part is not only a fantastic chance to see the sights and scenery across Britain but is a great opportunity to get some endurance miles laid down for training," commented Romero.
"I've always wanted to complete the whole length of the country and I'm delighted to be part of helping other recreational riders achieve their goals and complete the challenge".
Romero's ride starts on June 12.
http://www.rideacrossbritain.com/
LONDON SKYRIDE GIVEN PRESTIGIOUS GONG
The London Skyride was awarded Sports Participation Event of the Year at the recent Sports Industry Awards, the largest commercial sports awards of their kind.
The event attracted an estimated 65,000 cyclists on closed roads around the capital last year under blazing sunshine and the sense that cycling had finally hit the mainstream.
The news comes as the Mayor of London and TfL have set down their plans for cycling this year.
£116m will be spent on cycling over the year, which includes funding for the London Cycle Hire scheme, Cycle Superhighways, training, promotion, led rides and education.
TfL is also working closely with 13 outer London 'biking boroughs' to develop plans to unlock the huge potential for cycling in outer London.
DANI CROWNED KING OF HILLINGDON
Rising star Dani King took her third British win of the year from three British races with a convincing win at the Hillingdon GP at the weekend, ahead of Motorpoint's Becky James.
"My team-mate, Hannah Rich, said to me towards the end of the race that she was feeling good and was happy to give me a lead out so I was chuffed and took her up on the offer," said King after the race.
"With about half a lap to go Hannah got on the front and gave it all she had with me on her wheel. Becky James kicked and I knew that was when I had to go. She got quite a lead but I managed to just pip her to the line!"
King will now return to Belgium for some more racing. Tony Gibb was the winner of the men's event at Hillingdon.
CATERHAM HILL CLIMB
The Caterham Festival will have a twist to it this year with the introduction of a hill climb to the festivities.
The Festival is a month-long celebration in the Surrey town with a broad range of activities and events on offer, but it will be the first time that the town has played host to a hill climb.
"Last year we had a boat race through the town centre but I've always fancied having a hill climb," explained organiser, Scott Georgiades.
The 500m climb, based on Waller Lane has already been given the moniker of Waller Pain in recognition of its difficulty.
"It will be in the tradition of the Catford and the Bec Hill Climbs, with riders going at two-minute intervals and doing full-out efforts.
"It's about having fun too and it's open to everyone but we're hoping that we'll have some pretty tasty riders taking part too," Georgiades added.
Caterham hill climb: www.caterhamtable.com
Thank you for reading 20 articles this month* Join now for unlimited access
Enjoy your first month for just £1 / $1 / €1
*Read 5 free articles per month without a subscription
Join now for unlimited access
Try first month for just £1 / $1 / €1