Evans Cycles stops advertising with the Daily Mail, Daily Express and Sun over contradiction of 'core values'
The retailer says that some content from the publisher's sites go against their "core values"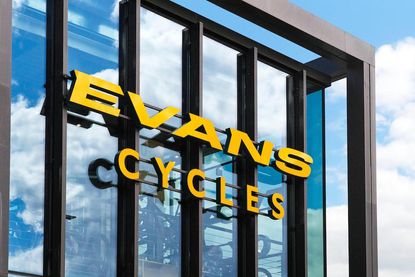 (Image credit: Alamy Stock Photo)
Evans Cycles has blacklisted the Daily Mail, Sun and Daily Express websites from their advertising campaigns, claiming that some of the content from the publisher's sites contradicts their "core values".
The retailer, which has over 60 stores across the country, made the decisions following queries placed on Twitter about the websites featuring their adverts.
>>> Evans Cycles deals: the best discounts from the Evans sale, including Castelli kit and turbo trainers
Evans Cycles was initially asked to review their policies by 'Stop Funding Hate' - a campaign group set up to 'take on the divisive hate campaigns of the Sun, Daily Mail and Daily Express'.
On Friday September 15 they were further questioned about what action would be taken, and on Monday morning (September 18) they responded to confirm that their ads would no longer appear on these websites.
A spokesperson from the 1921 founded retailer, which owns in-house brand Pinnacle bikes, explained: "We've now blacklisted any advertising placements on Daily Mail, The Sun and Daily Express. Needless to say, the content highlighted to us on these outlets go against our core values as a business."
"Whilst we hadn't previously targeted these outlets specifically, we were made aware that our programmatic advertising campaigns were appearing next to content that is very obviously at odds with our values. As a result, we have excluded these outlets from displaying any of our advertising campaigns."
In the vast majority of cases such ads are placed by an ad serving system - and then targeted automatically, as opposed to being directly placed on a chosen website. The publisher receives revenue when the advert is interacted with (appears or is clicked on) and therefore the action taken by Evans Cycles means that they won't be making payments to these publishes.
>>> The media coverage of the Charlie Alliston case should be disturbing for cyclists everywhere
Evans Cycles didn't make any comment on exactly which core values the newspapers "went against", but it's notable that they've been involved in the unprecedented reporting of the Charlie Alliston case.
The Daily Mail, for example, published an article in which Damien Thompson of the Daily Mail commented: "The truth is that Britain's roads are plagued by too many idiots who shoot through the traffic as if they were competing in the Tour de France, their brows furrowed in their self-righteous determination to outwit filthy, polluting motorists at every turn."
The response to Evans' decision has been overwhelmingly positive, with customers (new, old and returning) claiming that the decision will see them voting with their wallets in the future.
Thank you for reading 20 articles this month* Join now for unlimited access
Enjoy your first month for just £1 / $1 / €1
*Read 5 free articles per month without a subscription
Join now for unlimited access
Try first month for just £1 / $1 / €1