EVANS CYCLES LAUNCHES 'RIDE IT' SERIES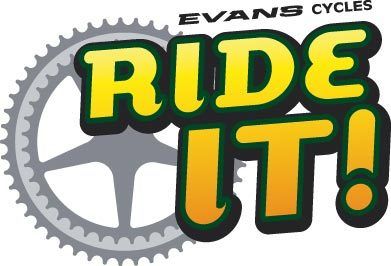 Evans Cycles, the UK?s largest specialist cycle retailer, launches new ride series.
The Evans Cycles Ride It! events are a series of organised road and off-road rides that are designed to take the hassle out of your weekend riding. The rides are non-competitive with an emphasis on riding with other riders, riding in new areas and sampling some of the best off-road riding the UK has to offer.
?It?s all about getting people to use their bikes more often? says Event Manager Dean Stacey. ?What we do is take the hassle out of getting out on your bike ? we research the routes, mark out the courses, plot it on a map and provide support throughout the day. All you need to do is turn up and ride!?
The series makes its debut at Evans Cycles head office at Gatwick over the weekend 29th & 30th March (MTB on Saturday and road on Sunday) and then twice a month at different venues throughout the UK. Every road ride has 4 pre marked routes designed for all standards of riders from family groups to experienced cyclists.
The family road ride is a 15 mile route which is a good introduction to road riding designed for the whole family to enjoy with minimal climbing and takes place on quieter roads. The short ride is around 30 miles and is ideal for casual riders or the commuter who wants to spend some leisure time on their bike. The medium ride is about 60 miles and is the perfect distance to integrate the ride into your training schedule and work your way up to the 90 mile plus long distance route ? a ride that will really test your fitness and stamina.
?Although we cater for the experienced road rider, the rides have been designed for novices and families as well? explains Dean. ?At every event there?s a shorter 15 mile loop and all kids under 16 ride free. The free entry for kids is something that is unique and designed to encourage more youngsters into riding their bikes.?
Adult entry is £10 per rider. Entries can be purchased on the Evans Cycles website at www.evanscycles.com/rideit and are also taken on the day (subject to a £2.50 surcharge)
Every ride includes:
* Pre-marked routes for all abilities
* FREE Memory Map OS map for each rider
* FREE SIS energy food & drink
* FREE kids entry
* Mechanical service
Dates and locations until the end of October
Area/Date/Start venue
GatwickMarch 29th & 30thEvans Cycles HQ, RH10 9TZ
BrightonApril 12th & 13thPlumpton College. BN7 3AE
WokingApril 26th & 27thParish Pavilion, Chobam, GU24 8AZ
GatesheadMay 17th & 18thEvans Cycles Gateshead, NE11 9YS
Albury, Surrey HillsMay 31st & June 1stAlbury Cricket Club, GU5 9DB
Milton KeynesJune 7th & 8thThe Pavilion, Bow Brickhill, MK17 9JB
Dorking, Surrey HillsJune 28th & 29thThe Priory School, Dorking, RH4 3DG
Thirsk, North York MoorsJuly 12th & 13thSutton Bank Visitor Centre, Thirsk, YO7 2EH
Stokenchurch, ChilternsJuly 26th & 27thStokenchurch Primary School, HP14 3RN
Hayfield ManchesterAugust 9th & 10thVenue TBC
Oxted, North DownsAugust 30th & 31stHazelwood School, Oxted, RH8 0QU
North LondonSeptember 13th & 14thChancellor's School, Hatfield, AL9 7BN
BristolSeptember 20th & 21stVenue TBC
NottinghamOctober 4th & 5thOaklands Centre, Warsop, NG20 0JE
West LondonOctober 18th & 19thVenue TBC