Federal lawsuit against Lance Armstrong hits stalemate
Federal lawsuit against disgraced cyclist hits an impasse over retrieval of emails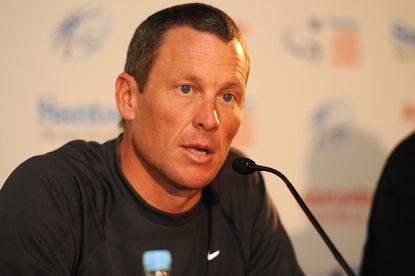 The US government's lawsuit against Lance Armstrong has hit stalemate this week, as the attorneys of both sides accuse the other of holding back evidence in the case.
Armstrong's lawyers are alleging that the government's legal team are holding onto documents that they claim show the US Postal Service did not suffer damage from the prolific doping within the team they sponsored between 1996 and 2004
Meanwhile the government's legal team are accusing Armstrong of refusing to turn over records of his drug use, as well as email conversations with those knew about the doping and willingly helped hide it.
The government need only prove however, that the team misrepresented itself in recruiting sponsorship, rather than causing any damage.
The Texan won six out of his seven Tour de France victories with the US Postal Service team, before having the titles stripped in late 2012 when the US Anti-Doping Agency gathered enough evidence to be satisfied that the he had doped throughout those wins. Armstrong later admitted to using performance enhancing drugs in early 2013.
The legal team of the government are specifically looking for email conversations between Armstrong and former USPS team owner, Thom Weisel.
Armstrong's attorneys asked for the email exchanges to be limited to a specific search term, but the government are holding out for all emails between the two.
"Our position -and I repeat it for the record - is we need a set of search terms from the government," said Armstrong's attorney Sharif Jacob in court, "Why don't you send them over so we can consider them?"
David Finkelstein, an attorney to the government responded: "I just said our search term is Mr. Weisel's email address. You said, 'I'm not going to run that unless you limit it further.' Have I mischaracterized your position?"
Jacob replied: "If the government is refusing to provide any modifiers to that search term...we have reached an impasse."
The government began its lawsuit against Armstrong after former teammate Floyd Landis filed a complaint in 2010 to start the whistleblower lawsuit.
The US government is searching for compensation under the False Claims Act, which could see it receive $100m in damages.
Jacob however, argues that the government benefited from the sponsorship and suffered no damages through its time with the team.
"The government is withholding from production evidence that will prove beyond a doubt that it has not suffered any damages," Jacob said, while he also pointed out that the sponsorship "yielded the holy grail of marketing: new cash revenue."
The case continues.
Thank you for reading 20 articles this month* Join now for unlimited access
Enjoy your first month for just £1 / $1 / €1
*Read 5 free articles per month without a subscription
Join now for unlimited access
Try first month for just £1 / $1 / €1