Field takes his highest ever finish in Belgium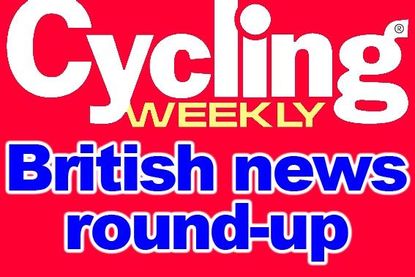 Field flies to thirteenth in Belgium while Day hits the deck
On Sunday, Ian Field secured his "best result by quite a long way", riding to thirteenth place in the opening round of the Gazet Van Antwerpen series in Namur.
"I'm really pleased. Last year, I rode well there, so I knew the course suited me," Field told Cycling Weekly. "I just needed a good start, because I knew I was going well. It was uphill, cobbles, a really fair start and I was in 21st going through the first bit."
"They had changed the course a lot from last year, but it was still really tough and technical with lots of uphills. I just got on with the job and started picking people off," he continued.
Towards the end, Field caught a few more and ended up with Belgians Jan Denuwelaere and former World Cup race winner Sven Vanthourenhout for company.
He beat them in the sprint for thirteenth, his highest ever finish in Europe and only 27 seconds off the top ten.
Almost four minutes up the road, world champion Zdenek Stybar took the win ahead of Klaas Vantornout. Sven Nys endured a day to forget, abandoning midrace after a poor start.
In the women's event, Helen Wyman (Kona) rode to fifth place as Saanne van Paassen took victory, and Nikki Harris (APB CT) finished ninth.
However, compatriot Gabby Day (Horizon Fitness RT) crashed badly coming down one of the steep drops, and was briefly knocked unconscious.
She was taken to hospital, sustaining a black eye and a broken finger, but tweeted today: "I am very sore, but ok; I will get back on the bike very soon."


Belgian-based British 'crossers Day, Field and Wyman (l-r) out training last year


Commonwealth Games cycling schedule
We've had photos of the unfinished athlete's village, athlete withdrawals and fireworks at the opening ceremony but finally the action has got underway at the Commonwealth Games - and the cycling programme begins tomorrow.
Riders such as Sir Chris Hoy, Victoria Pendleton, Geraint Thomas and Peter Kennaugh have elected to stay at home and world records may not fall but the stage is still set for some exciting racing in New Delhi.
Multiple national time trial champions Michael Hutchinson and Julia Shaw both get an opportunity to ride at the highest level and Commonwealth Games 2006 scratch race champion Mark Cavendish will relish a rare opportunity to wear Isle of Man colours.
The track cycling events begin at the Indira Ghandhi Sports Complex tomorrow (Tuesday 5th) and conclude on Friday (8th).
The road races take place on Sunday (10th) with the individual time trials finishing the cycling programme next Wednesday (13th).
Track cycling finals schedule (all times BST)
Tuesday October 5
0900 - Women - 500m time trial
0940 - Men - kilometre time trial
1040 - Men - 4,000m individual pursuit
Wednesday October 6
0800 - Women - 25km points race
0855 - Women - team sprint
0935 - Men - keirin
0940 - Men - 40km points race
Thursday October 7
0830 - Women - 10km scratch race
1020 - Men - 4,000m team pursuit
1035 - Women - sprint
1045 - Men - sprint
Friday October 8
0835 - Women - 3,000m individual pursuit
0915 - Men - team sprint
0935 - Men - 20km scratch race
Road schedule
Sunday October 10
0430-0745 - Women - 112km road race
0830-1300 - Men - 168km road race
Wednesday October 13
0600-0720 - Women - 29km individual time trial
0830-1045 - Men - 40km individual time trial
Chris Newton ends track career at Revolution
The first round of the Revolution series will see Chris Newton bid farewell to the track.
Already
getting to grips with his new role as Academy coach, the former world
points champion and current Premier Calendar champion will line up as
part of a Rapha-Condor-Sharp team, alongside Dean Downing and Graham
Briggs.
Team Sky and Motorpoint-Marshalls Pasta are also fielding teams in what promises to be a hard-fought competition.
There
are four Revolution rounds this season, taking place at Manchester
Velodrome on October 23, November 20, December 11 and January 5.
For more information, visit www.cyclingrevolution.com.
Verenti Dragon Ride bigger and better for 2011

Entries for the 2011 Verenti Dragon Ride will open on 29 December, and are expected to sell out very quickly.
The Dragon Ride was the first UK sportive recognised by the UCI and has become one of the most popular cycle events in the country.
Four thousand cyclists will tackle up to 200km of European style climbs over rugged Welsh coastal roads as the event celebrates its eighth year on Sunday June 5, 2011.
Riders will have the option of 200km, 130km Medio Fondo and 40km Corto routes. Those opting for the full distance are set to take in the Bwlch and Rhigos climbs and will have the opportunity to enjoy the breathtaking views across the Bristol Channel to Devon along the Vale of Glamorgan.
Medio Fondo riders will still tackle the Bwlch, one of Britain's most cycling friendly climbs with excellent road surfaces and relatively gentle gradients, but the route has been made more accessible to appeal to a broad selection of both experienced and novice sportive riders.
For more information see www.verentidragonride.com or visit their stand at this weekend's Cycle Show in Earl's Court.
Jon Snow visits Paralympic cyclists at Manchester Velodrome

Channel 4 News presenter and CTC president Jon Snow recently visited and rode at Manchester Velodrome alongside Paralympic cyclists.
It was a fascinating experience for Snow, who was there in his role as That Paralympic Show presenter. Here is an excerpt from his blog:
"There is an amazing spirit here. Suddenly I am aware of what a profound impact the London Paralympic Games are going to have on people's whole perception of disability...
...Anthony and Barney are Paralympic gold medallists (Beijing) on the tandem. Barney is able bodied Anthony is severely partially sighted.
I'm taking his place behind Barney on the tandem. I have never been on a 'fixed wheel' (no brakes) - never been on a tandem; and never shut my eyes to experience blindness whilst cycling. Neither have I ever cycled in a velodrome before."
For the full post, visit: http://blogs.channel4.com/snowblog/a-crazy-but-very-british-thing-to-do/13796
The episode will be aired on Channel 4 this month.
Got British news, results or race information? Send it to andy_mcgrath@ipcmedia.com
Thank you for reading 20 articles this month* Join now for unlimited access
Enjoy your first month for just £1 / $1 / €1
*Read 5 free articles per month without a subscription
Join now for unlimited access
Try first month for just £1 / $1 / €1