Five tips on how to win a crit solo
JLT-Condor's Graham Briggs tells us how he led Wednesday night's Elite Circuit Series round in Chepstow from start to finish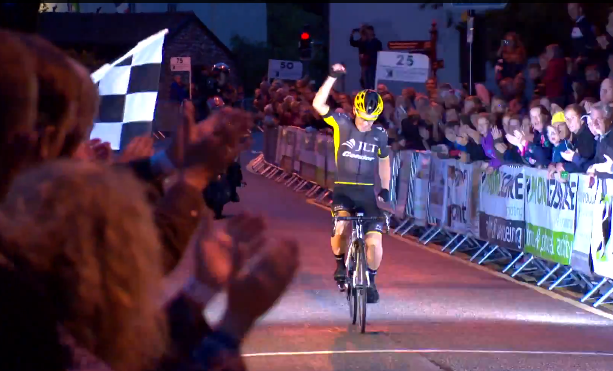 It's the classiest way of winning a bike race, and likely something everybody has dreamed of doing at least once : riding solo for the duration, and crossing the line with enough of a gap to celebrate properly.
That's exactly what happened to JLT-Condor's Graham Briggs in Wednesday night's round of the Elite Circuit Series in Chepstow.
The 32-year-old attacked from the gun, and lapped numerous riders in the closing laps before taking the chequered flag. Here, he tells Cycling Weekly how he did it.
Play the circuit and the conditions

"The circuit in Chepstow had a small climb and was followed by a technical section, which is something I enjoy. I like getting low through the tight corners – I think this is where I managed to draw out seconds on the bunch lap after lap. It was raining on and off at 6pm, which is good for me, too. When you're confident in your riding ability you can really push into the corners; I don't think I would've gone quicker round them had it have been dry."
Prepare well

"I prepared for the British Circuit Race Championships [last Wednesday] in the Pyrenees. Such a trip has worked well for me before, so I went there again in mid-July. I stayed three kilometres from the top of the Tourmalet, so I'd do efforts up to 1,200m, and then cruise up to the hotel at 1,900. It was a good trip, and I've felt really good since."
Establish a gap

"It wasn't planned that I'd attack from the gun. But we had a fast neutral lap, and I thought 'why not go for it?'. I attacked hard and just kept on going. For the first 30 minutes, I did think the chase behind would start pulling me in, but after that, I was confident I wouldn't get caught. Luckily I had my team-mate Tom Moses looking after a couple of other riders in chase move behind, which helped me out."
Get into a rhythm

"I think the best thing about riding solo, particularly in a crit, is that you can pick your line. You don't have to worry about where anybody else is, or what they're doing. You get into a rhythm, and I knew if I kept that I'd be tough to catch."
Keep something in reserve

"I wasn't slowing down for the climb, but I just made sure I never went up it on my limit. I could have gone harder if I needed to – John [Herety, JLT-Condor team manager] was telling me the time checks every lap, so I knew if I had to step it up a bit on the following lap. It's such a good feeling when you're going so well."