France beat Great Britain to gold in team sprint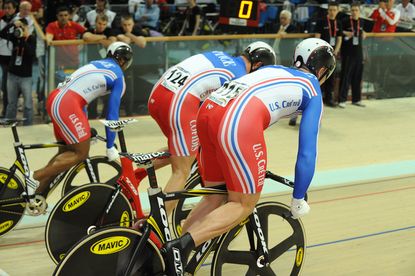 The Hub - Home for all CW's track worlds coverage
Wednesday's live coverage
The French successfully defended their team sprint world title in Poland at the end of the first day, beating the British team by just over a quarter of a second.
It would have been sweet revenge for the French who were so comprehensively beaten in Beijing, but it was also a solid performance by Great Britain who are now someway from their peak but still managing to compete at the highest level.
The French stopped the clock at 43.510 seconds with Crampton crossing the line in 43.869. The Brit had let a gap open between him and Jason Kenny by the end of the first lap, but had pegged it back by the time Kenny swung up.
Kenny had ridden the fastest split of the evening's final, but Crampton was still behind with a lap to go. France's victory was finally sealed as Mickael Bourgain extended his lead over the final 250 metres.
Of all three British riders Crampton had the toughest job. Not only did he join two Olympic champions, he was replacing Sir Chris Hoy in the wake of the Scot's injury
This year was the first time that a British trio had competed without Sir Chris since 1996, but even without the talismanic Scot they extended their run of consecutive podiums positions to 11.
Staff said: "I'm sure by the end of the week we'll have four or five gold medals, but it's disappointing we didn't bring one home. It's been really hard since the Olympics, pretty intense, and we've all been training hard. It just didn't quite happen tonight."
Crampton added: "The ride in qualifying was great, but we didn't do quite enough in the final. But I've got a silver medal and I'm pretty happy with that."
QUALIFYING ROUND
The rivalry between Great Britain and France's team sprint riders continues, after the nations qualified for the gold medal final.
Great Britain's trio of Jamie Staff, Jason Kenny and Matt Crampton, who replaced the injured Sir Chris Hoy, set a fine time of 43.738, only to see Gregory Bauge, Michael D'Almeida and Kevin Sireau sneak inside it.
Britain won gold at the Olympic Games in Beijing last summer, and the French were victorious in Manchester a year ago.
Results: Men's team sprint
1 France 43.510
2 Great Britain 43.869
3 Germany 43.912
4 Australia 43.986
Qualifying round
1 France 43.614seconds
2 Great Britain 43.738
3 Germany 43.911
4 Australia 44.115
5 Poland 44.865
6 Malaysia 44.996
7 Netherlands 44.999
8 Japan 45.139
9 China 45.201
10 Russia 45.513
11 Ukraine 45.713
12 Spain 45.771
13 Greece 46.578
14 Czech Republic 46.594
15 Colombia 46.722
Jamie Staff leads the GB team sprinters
Staff peels off leaving Kenny and Crampton
The winning French trio
Team sprint podium: Great Britain, France, Germany
2009 UCI TRACK CYCLING WORLD CHAMPIONSHIPS
Follow Cycling Weekly on Twitter>>
RACE REPORTS
The CW Hub: Track World Championships index
Men's team sprint: France beat Britain
Men's Points Race: Newton gets bronze
Women's individual pursuit: Houvenaghel beaten to silver
500m TT: World record for Krupeckaite, bronze for Pendleton
NEWS AND FEATURES
Track worlds day one: steady start for team GB
Why there's no Brit in the individual pursuit
No individual pursuit for Britain at track worlds
No room for complacency in British Cycling: Iain Dyer interviewCavendish in the frame for Scratch race world title bid
2009 Track Cycling World Championships preview
Crampton set to fill Sir Chris Hoy's team sprint spot
2009 World Track Champs GB squad named
Hoy to miss world track champs
Track World Championships: British medal winners
CW's Dummies' Guide to Track Racing
PHOTOS
GB RIDER PROFILES
Men
Jonathan Bellis
Steven Burke
Mark Cavendish
Ed Clancy
Matt Crampton
David Daniell
Ross Edgar
Jason Kenny
Chris Newton
Jamie Staff
Women
Lizzie Armitstead
Wendy Houvenaghel
Victoria Pendleton
Shanaze Reade
Joanna Rowsell
Jessica Varnish
RECENT RESULTS
International track results last season: 2007-2008
International track results this season: 2008-2009
2008 TRACK WORLD CHAMPIONSHIPS LINKS
Full results from the 2008 track worlds
Report: Sunday, day five>>
Report: Saturday, day four>>
Report: Friday, day three>>
Report: Thursday, day two>>
Report: Wednesday, day one>>
EXTERNAL LINKS
Track Cycling World Championships 2009 official website
Thank you for reading 5 articles this month* Join now for unlimited access
Enjoy your first month for just £1 / $1 / €1
*Read 5 free articles per month without a subscription
Join now for unlimited access
Try first month for just £1 / $1 / €1