Georgios Bouglas ready to fly the flag for Greece at Road World Championships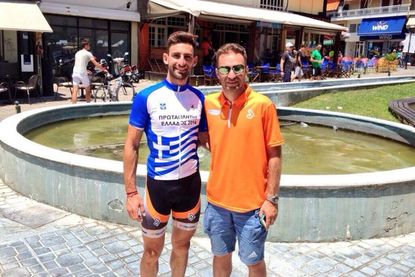 (Image credit: Georgios Bouglas)
Georgios Bouglas will make his World Championship debut as the sole representative for Greece today having been registered for the elite men's road race 10 minutes before deadline last Friday.
The Greek national road champion originally wasn't going to be sent by his federation however arrived two days ago with just his Continental team SP Tableware trainer Vasilis Anastopoulous.
"They thought that they didn't want somebody to be here with the pros but obviously they can understand the value, how important it is just to be here at the start of the race," Bouglas told Cycling Weekly in a telephone interview yesterday.
"I'm not saying that I'm going to win the race, I don't know if I'm even going to finish the race, but the most important thing for a small cycling country like Greece is just to be present and be on the start line with all the big names of elite cycling. It's a huge honour for me, and for Greek cycling, of course, to be at the start line with the elite riders."
Anastopoulous, who is also a coach to Thomas Dekker and Johan Vansummeren, has been able to relay information about the 18.2km circuit in Ponferrada, Spain to the astute 23-year-old Bouglas, who has not personally seen it prior to today's 254.8km title race.
"I didn't manage to have a look at the course but I have studied it on YouTube. My trainer works with some big pros, like Johan Vansummeren, so he was out yesterday the whole day with the Belgium team. He gave me all the info from them about the course - how it is, where the dangerous parts are.
"I don't think it's too difficult but it's tactical," he continued. "There's a descent that is really, really dangerous coming into the city and there may be a lot of crashes, especially if it rains.
"The select group will go in the last lap I think. The race will be decided there because if you reach the top of the hill alone then it's way too difficult to catch you before the line, which happened at the under-23 event. I'm expecting an aggressive race."
Bouglas is from Trikala - a town in the geographical centre of Greece some 200km from the capital Athens - where he was introduced to the sport and is still based. He had been training for the Greek national track championships, in which he is a former gold medallist in endurance events, but, with just over a week to spare, averted his focus back to the road.
"It's popular in my hometown so I've been cycling since I was 10 years old. I had some success on the track and then the road," he said. "The whole year we stay in Greece and travel to races from there."
Bouglas started his season in March at the Tour of Taiwan where he finished third behind Luke Keough (UnitedHealthcare) and Wouter Wippert (Drapac) in the opening circuit stage. He has raced consistently and enters the World Championships on the back of July's Sibiu Cycling Tour in Romania. However, according to statistics website Cycling Quotient, Bouglas has completed 11 race days for a total of 1,363km this season - if you only include finished and category .1 races or above. It makes his start today more impressive.
Bouglas has no trade team-mates competing in the elite men's road race and is one of five riders, including Azzedine Lagab (Algeria), Segundo Navarrete (Ecuador), Ben Gastauer (Luxembourg) and Tobias Ludvigsson (Sweden), who will race as sole nation representatives in a 203-strong peloton. He is hopeful his presence at Ponferrada will also help in the search for a new team with SP Tableware set to fold.
"I talked to my trainer and the obvious tactic is to try and be in the breakaway from the beginning," he said of race strategy. "It's difficult for me even to finish the race in the bunch because it will be a really, really hard race, especially in the last three or four laps. I'll try to be in the breakaway and if that doesn't succeed I'll stay in the bunch and try to ride as much as possible in the bunch."
Twitter: @SophieSmith86
Thank you for reading 20 articles this month* Join now for unlimited access
Enjoy your first month for just £1 / $1 / €1
*Read 5 free articles per month without a subscription
Join now for unlimited access
Try first month for just £1 / $1 / €1