Glendene prepare for Welsh challenge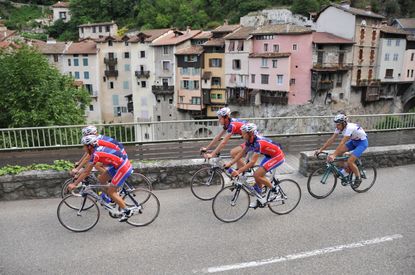 UK junior team Glendene CC were in the Vercors, France, last week for a training camp to prepare for the upcoming junior Tour of Wales.
The team stayed with Velo Vercors, a cycling holiday company run by Teresa Hart and ex-GB international Roger Dunne.
Dunne is the Glendene team member and British junior 25 mile champion Conor Dunne's uncle. The team, managed by another ex-international and former pro Bob Downs, put in a hard week in the Vercors mountain range just west of the high Alps.
Long rides were interspersed with faster sessions, and on the penulitimate day the team did a ride that will feature in an upcoming issue of Cycling Weekly.
Returning to the UK via Belgium the team tested their legs in the Omloop Van Lauw. The result was a one-two for Conor Dunne and Tom Moses.
Unfortunately the other Glendene riders, Paul Young and Al Murison suffered a puncture and crash respectively, but the team will still start as one of the favourites in Wales.
Glendene riders training in the Vercors
Thank you for reading 20 articles this month* Join now for unlimited access
Enjoy your first month for just £1 / $1 / €1
*Read 5 free articles per month without a subscription
Join now for unlimited access
Try first month for just £1 / $1 / €1