Guo wins world Keirin title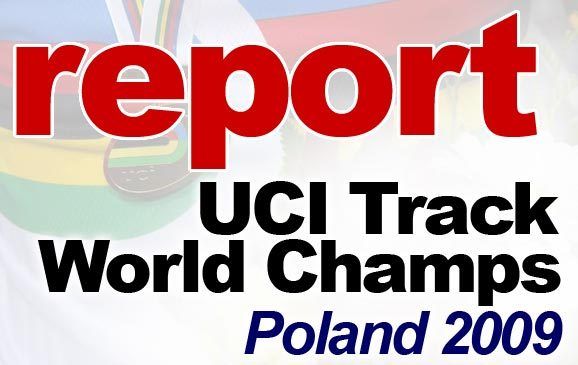 The Hub - Home for all CW's track worlds coverage
Sunday's live coverage>>>
China's Shuang Guo won the Keirin title ahead of Clara Sanchez and Willy Kanis, as Victoria Pendleton's ambitious bid for a medal in all four sprint events finally ran out of steam.
Pendleton won her first ever medal in a World Championship 500-metre time trial on Wednesday, and has been in action every day since.
On Thursday, she teamed up with Shanaze Reade as they were pipped by Australia in the team sprint. The following day, the sprint competition began.
Last night, Pendleton appeared to dig deep into her reserves to win her fourth sprint world title in five years in a thrilling final against Dutch rider Willy Kanis, who took her to a deciding race.
The margin of victory couldn't have been narrower, and the emotional outpouring afterwards indicated the toll it had taken on Pendleton.
It was asking a lot for Pendleton to recover in time to mount a challenge in the Keirin. After leaving the track around 10pm, then travelling back to the team hotel, she knew the clocks going back would effectively rob her of an hour's recovery time. And with the competition starting again at 10am on Sunday morning, the task was almost impossible.
No one would have grumbled had Pendleton decided to pull out? But just as Lizzie Armitstead and Peter Kennaugh picked themselves up and got on with the race after crashing, so the thought of pulling out did not seriously cross Pendleton's mind.
But from the morning's first round race, where she finished fifth of six, it was clear she didn't have enough in the tank to win gold.
Although Pendleton got through the repechage round, winning her heat, she was out-gunned in the second round and in the 7-12 place final, she trailed in at the back.
Afterwards she said aiming to compete in all four races, let alone win a medal in all four, was a tall order.
It meant the Chinese rider, Shuang Guo, claimed the world title in the Keirin ahead of Clara Sanchez of France.
Pendleton rode the 500 metres, two races in the team sprint, then 10 races in the sprint competition over two days, then four rides in the Keirin. That meant she had to compose herself and focus on 17 separate occasions in five days. It's a gruelling schedule by any standards.
Pendleton said: "I'm absolutely cream-crackered. I only got about two hours sleep. It's so hard to recover, particularly when you're back on the track again first thing in the morning.
"It was an ambitious thing to do to ride all four events, let alone win a medal in them, perhaps too ambitious at the moment.
"It's been really hard since Beijing, all the other commitments, and trying to train, and race but also take a break.
"I'm really happy with how the week went but now I'm going to take a break, get away for a while. I will ride my road by for a couple of months, then come back to the track when they let me!"
For full reaction and analysis see Thursday's Cycling Weekly
Results
1-6 final
1. Shuang Guo (Chn)
2. Clara Sanchez (Fra)
3. Willy Kanis (Ned)
4. Elisa Frisoni (Ita)
5. Anna Meares (Aus)
6. Sandie Clair (Fra)
7-12 final
7. Lisandra Guerra Rodriguez (Cub)
8. Miriam Welte (Ger)
9. Kaarle McCulloch (Aus)
10. Kristina Vogel (Ger)
11. Victoria Pendleton (GB)
DNS Simona Krupeckaite (Lit)
Second round
Heat 1
1. Shuang Guo (Chn) Q
2. Anna Meares (Aus) Q
3. Elisa Frisoni (Ita) Q
4. Lisandra Guerra Rodriguez (Cub)
5. Kaarle McCulloch (Aus)
6. Kristina Vogel (Ger)
Heat 2
1. Clara Sanchez (Fra) Q
2. Willy Kanis (Ned) Q
3. Sandie Clair (Fra) Q
4. Victoria Pendleton (GB)
5. Miriam Welte (Ger)
6. Simona Krupeckaite (Lit)
First round repechage
Heat 1
1. Kristina Vogel (Ger) Q
2. Miriam Welte (Ger) Q
3. Yvonne Hijgenaar (Ned)
4. Jessica Varnish (GB)
Heat 2
1. Willy Kanis (Ned) Q
2. Elisa Frisoni (Ita) Q
3. Monique Sullivan (Can)
4. Renata Dabrowski (Pol)
5. Diana Maria Garcia Orrego (Col)
Heat 3
1. Victoria Pendleton (GB)
2. Kaarle McCulloch (Aus)
3. Olga Streltsova (Rus)
4. Lulu Zheng (Chn)
5. Jutatip Maneephan (Tha)
First round
Heat 1
1. Shuang Guo (Chn) Q
2. Sandie Clair (Fra) Q
3. Kristina Vogel (Ger)
4. Olga Streltsova (Rus)
5. Victoria Pendleton (GB)
6. Renata Dabrowska (Pol)
Heat 2
1. Clara Sanchez (Fra) Q
2. Anna Meares (Aus) Q
3. Diana Maria Garcia Orrego (Col)
4. Jessica Varnish (GB)
5. Elisa Frisoni (Ita)
6. Yvonne Hijgenaar (Ned)
7. Lulu Zheng (Chn)
Heat 3
1. Simona Krupeckaite (Lit) Q
2. Lisandra Guerra Rodriguez (Cub) Q
3. Kaarle McCulloch (Aus)
4. Willy Kanis (Ned)
5. Miriam Welte (Ger)
6. Jutatip Maneephan (Tha)
7. Monique Sullivan (Can)
2009 UCI TRACK CYCLING WORLD CHAMPIONSHIPS
Follow Cycling Weekly on Twitter>>
RACE REPORTS
The CW Hub: Track World Championships index
Women's points race: Armitstead proves she's a future champion
Women's keirin
Men's omnium
Men's Madison: Danes win as Kennaugh hits the deck
Women's sprint: Pendleton wins fourth title
Women's omnium
Women's scratch race: Silver for Armitstead
Men's kilo TT: Nimke beats Sir Chris's kilo record to take gold
Men's team pursuit: Britain get fourth
Women's team pursuit: Britain clinch gold
women's team sprint: Reade and Pendleton score silver
Men's scratch race: Cavendish marked out of contention
Men's individual pursuit: Phinney wins gold
Men's team sprint: France beat Britain
Men's Points Race: Newton gets bronze
Women's individual pursuit: Houvenaghel beaten to silver
500m TT: World record for Krupeckaite, bronze for Pendleton
NEWS AND FEATURES
Track worlds day four summary: Sensational Pendleton digs deep
Track worlds day three summary: Armitstead again
Track worlds day two summary: Golden girls deliver
Track worlds day one summary: steady start for team GB
Why there's no Brit in the individual pursuit
No individual pursuit for Britain at track worlds
No room for complacency in British Cycling: Iain Dyer interviewCavendish in the frame for Scratch race world title bid
2009 Track Cycling World Championships preview
Crampton set to fill Sir Chris Hoy's team sprint spot
2009 World Track Champs GB squad named
Hoy to miss world track champs
Track World Championships: British medal winners
CW's Dummies' Guide to Track Racing
PHOTOS
GB RIDER PROFILES
Men
Jonathan Bellis
Steven Burke
Mark Cavendish
Ed Clancy
Matt Crampton
David Daniell
Ross Edgar
Jason Kenny
Chris Newton
Jamie Staff
Women
Lizzie Armitstead
Wendy Houvenaghel
Victoria Pendleton
Shanaze Reade
Joanna Rowsell
Jessica Varnish
RECENT RESULTS
International track results last season: 2007-2008
International track results this season: 2008-2009
2008 TRACK WORLD CHAMPIONSHIPS LINKS
Full results from the 2008 track worlds
Report: Sunday, day five>>
Report: Saturday, day four>>
Report: Friday, day three>>
Report: Thursday, day two>>
Report: Wednesday, day one>>
EXTERNAL LINKS
Track Cycling World Championships 2009 official website