Guy Martin abandons around-Britain cycling record attempt with injury
Guy Martin suffers from achilles tendon injury on his attempt to set a new British around-the-coast cycling record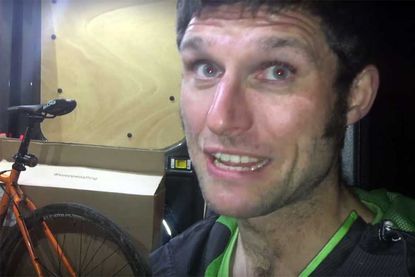 Guy Martin has been forced to abandon his attempt to set a new record for riding the entire length of Britain's coastline due to injury.
Martin pulled his Achilles tendon early on in his attempt to ride the 4,802-mile coastal route in 20 days. He was hoping to beat the current record of 22 days set by Nick Sanders in 1984.
The motorcycle racer, TV presenter and all-round daredevil had made good headway, setting off from Grimsby on Sunday, December 5, and riding the 800 miles to John O'Groats in just over four days.
However, despite saying that he would 'ride through the pain', Martin decided to pull the plug to prevent long-lasting injury.
"Well, it's not gone quite to plan," Martin wrote on his blog on Wednesday.
"I badly pulled my Achilles tendon on the left side after a day or so but thought Id just get my head down and work through it. I kept good miles up and got to John O'Groats from Grimsby in 4 days and 8 hours, about 800 miles.
>>> Guy Martin sets off on attempt to break British around-the-coast cycling record (video)
"But my leg was getting worse and I thought I could keep going and maybe do the whole lot in 30 days but I knew Id be jiggered for a long time after and maybe even have serious long-term damage, which would mean I couldn't do the serious cycle trip I've got in my head for next year."
"I'm back at work and I realise I need to listen to my body more. By just manning up I was papering over the cracks."
Before setting out on the attempt, Martin had admitted that it was 'not the best time of year to be doing it'.
Martin has previously held the record for the British motor-paced cycling speed record, clocking 112.94mph in 2013. The record was subsequently beaten in April 2016.
Thank you for reading 5 articles this month* Join now for unlimited access
Enjoy your first month for just £1 / $1 / €1
*Read 5 free articles per month without a subscription
Join now for unlimited access
Try first month for just £1 / $1 / €1