Halfords hit the Tour of Britain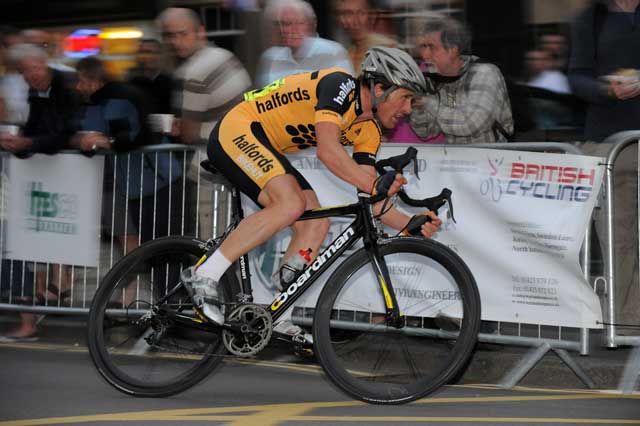 The Halfords Bikehut team go into the Tour of Britain looking for stage wins and jerseys as they finished the final block of hard training at the weekend before the tour start in Scunthorpe on Saturday.
Ian Wilkinson has been the big winner for the team this year, with the Warwick circuit race last weekend providing the former builder from Barnoldswick with his seventh victory of the season.
This being Wilkinson's first season as a fulltime rider with a big team, it will be his first tilt at the Tour of Britain. "I'm a virgin!' he joked. "I am really looking forward to it. And it looks like Rob [Hayles] is coming into a bit of form, so hopefully I can help him go one better than last year."
A stage could be on the cards for the man from Lancashire, but which one? "There are eight to go at. I have been round the North-West stage; that is going to be a hard day. And I think them two Somerset stages are going to be hard," he said.
Hayles came mighty close on two occasions in last year's tour, finishing second behind Alessandro Petacchi both times. There is no Petacchi to deal with this time, but Edvald Boasson Hagen will be back once more and the new Sky signing has reached another level in the last 12 months.
For Hayles, it was the final day's racing of the 2008 race where he felt the win was going to come. "The last stage was the one that was absolutely suited to me" he said. "I was just about to say to Tom [Southam] 'I can't be beaten today' when we went round the top left-hand bend, and two lads were on the floor in front of me and I decked it. I got back, but it nearly killed me. I ended up fifth but I was still only a bike-length off Pettachi."
Manager Keith Lambert expects Wilkinson to produce a decent ride in his first attempt at the tour, having put in a fine performance at the Tour of Ireland. "There are no massive climbs: it is just tough all the time. It should suit somebody like him. He lost the jersey in the Tour of Ireland on Connor Pass, but I don't think there is anything as big as that on this tour," said Lambert.
"I have brought Ian Bibby in with a view to doing something in the mountains," he added. "He has just ridden the Valle d'Aosta in Italy with the academy team. He had a bad day and blew, but he was up there before that. If he is on song, he's a damn good climber."
Halfords: Tour Series winners
HALFORDS BIKEHUT: TOUR OF BRITAIN TEAM
Andy Tennant
Rob Hayles
Ian Bibby
Ian Wilkinson
Mark McNally
Ed Clancy