Johnny Helms: A tribute to one of the longest serving cartoonists in publishing
Cartoonist Johnny Helms provided funny and insightful comic strips to Cycling and Cycling Weekly for over 60 years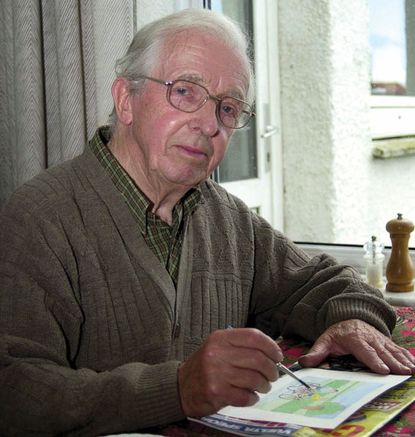 Every week for 63 years Johnny Helms's celebrated cartoons have poked good-natured fun at our sport and pastime.
Helms, as he signed himself, held to his post-war style, which remained reassuringly little changed since his first cartoon was published in Cycling on February 6, 1946.
That is testimony to his enduring appeal and his legacy to our pastime. For in essence cycling today retains the same simple pleasures as always, releasing us from the constraints of everyday life, turning us into free spirits on the road.
And Helms provided the laughs along the way.
His keen eye recorded the very essence of our pastime and sport, the many amusing characters in our midst and the often bizarre and quirky rituals of the clubrun, of competition.
Many a reader has identified with a scene from Helms's cartoons, especially that dog of his, always contriving ways of nobbling cyclists. You name it, Helms had it covered.
He enjoyed good health for most of his life, which revolved around his wife Ruth and family and the Warrington RC and last but not least, the drawing pad! And when in recent years, backache and other ailments started to affect his life - as they do - he became most offended.
He was understandably quite shocked when, I think it was six years ago, he went to hospital for tests, to be told by doctors that he had recently had a heart attack! He was admitted overnight and released the next day with instructions to stop cycling until the doctors had "sorted me out". He was far from happy, especially as he didn't feel ill.
So he kept on cycling, as he recalled in his President's Piece for the Warrington RC: "Saying 'stop riding your bike' is a bit like saying 'Stop breathing', so I haven't been obeying the rules exactly and having some gentle rides around the local lanes. Ruth and I did manage 60 miles over the weekend of the York Rally, but I reckon my annual mileage is going to be the lowest since I was eight years old."
1947
1947
1948
1948
Record breaker
But that period gave him pause for thought, to reflect on how the Warrington RC had played such a large part in his life. And he dryly confessed to being concerned over whether he could hang on long enough to overtake Frank Patterson as CW's longest serving contributor!
He allowed himself a chuckle when he did pass that magic threshold. The occasion merited a feature about his work and life. A home visit was in order, to meet the cartoonist and his wife. We had an entertaining chat over a lovely salmon lunch at their Widnes home. And so he added another five years to the record, a remarkable 63 years of virtually non-stop production.
He'd begun to complain he didn't have too many more ideas, but he always warmed to encouragement, and we'd cajole, and gently persuade him back to his drawing board.
When he and Ruth went on holiday, or parrot-sitting over at his daughter's place in St Helens, he always sent us extra cartoons to tide us over. Each July there would be a Tour de France angle and in 2008 they had a Beijing Olympics flavour.
And so the weekly chuckling has continued all these years. Helms was as institutional part of the magazine, of club life.
Sadly, the two cartoons which arrived in the customary white envelope on the first Monday of this month were to mark the end of his unique run. For they were posted shortly before he was taken ill. A short note hoping we would have enough stock to be going on with accompanied them.
1950
1950
1950
No time to write
He had taken one more friendly poke at our club world. In one cartoon, a cyclist and his son on a tandem in the rain barely make one cape stretch between them - illustrating the economy of packing, perhaps! Why take two capes when one will suffice - almost. The other was a scene outside a cafe - we published it with his obituary last week. One character is saying he's not locking up his bike because if it's nicked, he'll call for his wife to come and get him in the car. The funny thing about that one is it may not be a joke! Everyone will know a cyclist who thinks like that.
Helms never set out to become a cartoonist. His first ambition was to be a writer, he once told me. But he soon gave that up when he realised writing was taking up precious socialising time. This revelation came to him when he was writing for his army unit newspaper when serving in the Royal Signals during the Second World War, during which he saw action in Normandy.
He seemed always to be writing and missing out socialising. Cartoons could be knocked out in a jiffy. So, away with the typewriter, out with the pen!
Cycling's regular artist in those days was a guy called Lewis, who drew a character called Bim. When Lewis died, the magazine advertised for a new cartoonist and Helms saw his chance. "I liked Bim, but I thought I could do better," said Helms.
1964
1964
1964
Persistence rewarded
For 12 months Helms kept sending cartoons to then editor Harry England who promptly sent them back. Helms kept sending in cartoons. Back and forth, back and forth. Until, suddenly, to his delight, England relented and the first Helms cartoon appeared in Cycling. The date: Feb 6, 1946 - He remembers it like people of a certain age remember their old Co-op 'divi' number!
He was invited to London to meet Harry England at Cycling's offices. And so the cycling world was introduced to a strip cartoon featuring Baz. Most clubs had a Baz in their midst!
When George Pearson became editor Helms was asked to devise a new character. So Honk was born. There are Honks everywhere, too. "He was the same person doing the same things," Helms told me.
Honk was a bit daft. One particular cartoon that comes to my mind is a Christmas scene and Honk is answering the door to the postman.
A voice from inside the house calls out: "Honk, don't forget to give the postman a tip." Honk blankly acknowledges the advice and says to the postman, "Always inflate your tyres hard."
Good old Honk. At some point he rode off into the distance never to return and Helms's subjects became the cycling enthusiasts in general.
Helms became a member of the Warrington Road Club in 1946, the same year he was first published in Cycling, and a year before his demob. And he proudly served the Warrington RC all of his life, rising to president, a position he relinquished only four years ago. He held many official positions largely because, he said, he couldn't keep his mouth shut at general meetings.
1976
1976
Johnny with Ruth at their home
I'll do it!
He dryly recalled how it all began. The usual silence had followed a plea for someone to step up and take on the job of treasurer. "Then I heard a voice say, 'I'll do it'. It was my voice! This happened time and again."
It was this impulsive attitude that let to him becoming club treasurer for 13 years and chairman for 10. He heard himself volunteer for the job of magazine editor and press secretary, to organise road races, criteriums and inter-club time trials. "Why can't I keep my mouth shut?" said Helms, with a twinkle in his eye. The truth is he loved club cycling and all that it entailed.
He was a keen time triallist, posting average club times: 1-5 for 25 miles; 2-15 for 50; 4-44 for 100; 224 miles for a 12-hour.
And he loved to go touring, switching to tandem when the girl of his life came along, Ruth. When they married and started a family their daughter Janet would go with them, in a sidecar when she was tiny. Then as Janet grew, kiddie cranks were fitted, and finally, all three switched to solos.
Helms would clock some 16,000 miles a year cycling, 2,000 of them to attend club dinners. He was in great demand as a guest speaker and averaged 10 dinners a year. Come hail or snow, he prided himself on going there and back by bike.
His early childhood was spent in the little village of Sutton Weaver, in rural Cheshire, not that far from the Widnes home where he and Ruth settled.
Helms was born in 1924, into a period often described as the halcyon age of cycling. There was little in the way of traffic.
He recalled how his love of cycling began, at the age of three. He had a red tricycle and, rattling around in the yard, he fell off. Cue a lot of howling. Whereupon his aunt wiped away the blood and tears and made him a large jam butty. "She probably saved my cycling career," Helms recalled.
Six months later his cycling wanderlust proved too much and the intrepid toddler decided to leave home! To be found two miles away by a search party, heading north.
1987
1987
The first century
At the age of seven he would cycle 10 miles to visit a favourite aunt. He would cycle to school and on his 11th birthday his parents gave him a Hercules juvenile bike, with 16-inch frame and 24-inch wheels, rod-operated brakes and a single freewheel.
Soon 40 and 50-mile rides came to be the norm and the magic '100' beckoned. He was 12 and a skinny lad weighing seven stone. And he wanted to ride 100 miles in a day.
He told how his first 100-mile bike ride into Derbyshire had come as a "terrible shock".
"My geography teacher told me all about the Himalayas and the Andes but he had never mentioned the mountains of Derbyshire, about Axe Edge or the Cat and the Fiddle!"
Achieving that first '100' filled him with pride. There was no stopping him.
At 14 he left school with no qualifications, and he had bought for him his first pair of long trousers. He started work as a butcher's boy in nearby Frodsham - a lovely hilly area crowned by an escarpment, Overton Hill, which overlooks the river Mersey.
So, more cycling then, on a delivery bike this time, but paid to do it! But it was hard work on those hills, as anyone who has ridden a delivery bike with a big loaded basket will know. He sometimes had to split the deliveries to manage.
1996
1996
Tour of Wales
At weekends he went out on his proper bike. Soon he went on his first tour, to Wales. He had 30 shillings (£1.50), enough for three nights' accommodation in B&Bs. His maiden adventure took him as far as the beautiful Swallow Falls at Betws-y-Coed.
When he grew a bit older, Helms became an employee of ICI, the chemical plant in Northwich, and he celebrated taking his retirement by going on his biggest ever cycling Tour, 2,000 miles across the vastness of China, or "down China", as he modestly put it.
"It was a great experience. No accommodation was booked in advance, of course. Slept in a temple one night, a former royal palace on another, in the rooms formerly occupied by the concubines. There wasn't a concubine anywhere to be seen," he added, ruefully.
His stories, like his cartoons, always left you smiling. Thanks for all the laughs, Johnny.
2000
2000: "Well I've got to do something to pass the time while you're out training"
2000: "You're late, your dinner is in the dog"
Thank you for reading 10 articles this month* Join now for unlimited access
Enjoy your first month for just £1 / $1 / €1
*Read 5 free articles per month without a subscription
Join now for unlimited access
Try first month for just £1 / $1 / €1
Keith Bingham joined the Cycling Weekly team in the summer of 1971, and retired in 2011. During his time, he covered numerous Tours de France, Milk Races and everything in-between. He was well known for his long-running 'Bikewatch' column, and played a pivotal role in fighting for the future of once at-threat cycling venues such as Hog Hill and Herne Hill Velodrome.