Honda unveils car designed to accommodate the needs of cyclists
Honda's Civic Tourer Active Life concept car features a boot big enough to house two bikes side-by-side, with an integrated pump and work bench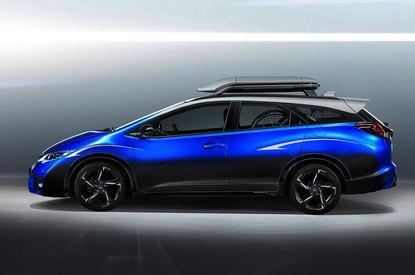 The Honda Civic Tourer Active Life concept is to be unveiled at the Frankfurt Motor Show next week - a car designed with cyclists in mind.
The Tourer aims to help cyclists and features an extendable loading rack with space for two bicycles, which retracts into the spacious boot with the bikes sitting side by side.
Also included is an air pump, a retractable work bench, a shaded canopy and space inside for toolboxes and waterbottles.
The roof box is also designed for carrying cycling accessories, such as helmets, while the boot is reportedly large and deep enough for you to carry your own water tank.
What's more, the car is pretty efficient, recently setting a new Guinness World Record for fuel economy, achieving over 100 miles per gallon on an 8,000-mile run by two R&D staff.
Cars are often the nemesis of cyclists, but it's good to see more manufacturers taking the growing number of bike riders into account when designing their new machines.
Thank you for reading 20 articles this month* Join now for unlimited access
Enjoy your first month for just £1 / $1 / €1
*Read 5 free articles per month without a subscription
Join now for unlimited access
Try first month for just £1 / $1 / €1