Houvenaghel beaten to pursuit gold by Kiwi Shanks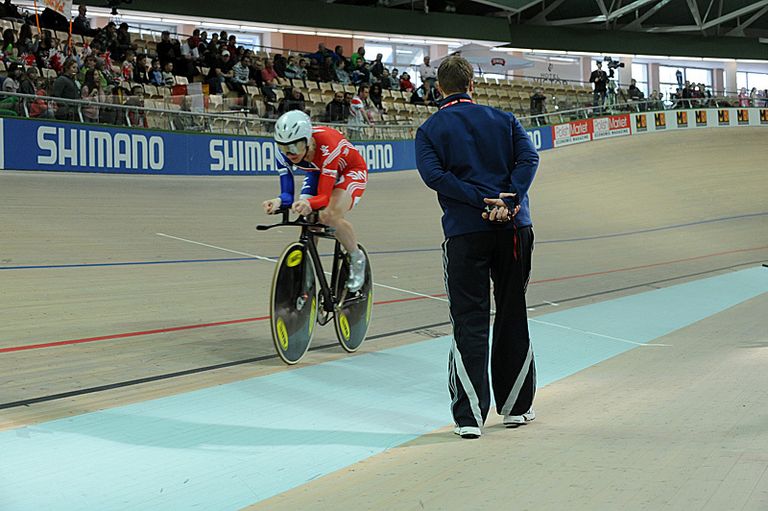 The Hub - Home for all CW's track worlds coverage
Wednesday's live coverage
New Zealand's Alison Shanks produced a fine performance to deny Wendy Houvenaghel the gold medal.
But the British rider did get her first World Championship medal in the individual pursuit.
Britain's youngster Joanna Rowsell was also beaten in the bronze medal race, by the Lithuanian Sereikaite.
Final results
1 Alison Shanks (New Zealand)
2 Wendy Houvenaghel (Great Britain)
3 Vilija Sereikaite (Lithuania)
4 Joanna Rowsell (Great Britain)
Wendy Houvenaghel in the final
Houvenaghel, Shanks and Sereikaite on the podium
QUALIFYING ROUND
Britain's Wendy Houvenaghel guaranteed her first World Championship individual pursuit medal after she topped the qualifying in the 3,000-metre event.
The Olympic silver medallist was part of the winning team pursuit trio in Manchester a year ago, but missed out on the bronze when she was beaten by Australia's Katie Mactier in the solo event.
But she made certain of a medal, and is on course for gold, when she was the only rider to break the 3-30 barrier.
The gold medal final will be a repeat of her heat. Houvenaghel and Kiwi Alison Shanks had faced each other in the final heat of the afternoon qualifying session.
Earlier, Joanna Rowsell had seen her best time beaten by Vilija Sereikaite of Lithuania, and then both Houvenaghel and Shanks. It means Rowsell will race for bronze.
Qualifying times
1 Wendy Houvenaghel (Great Britain) 3-29.491
2 Alison Shanks (New Zealand) 3-31.063
3 Vilija Sereikaite (Lithuania) 3-33.935
4 Joanna Rowsell (Great Britain) 3-35.028
5 Josephine Tomic (Australia) 3-37.780
6 Eleonora Van Dijk (Netherlands) 3-38.873
7 Tara Whitten (Canada) 3-38.962
8 Svitlana Galyuk (Ukraine) 3-40.413
9 Leire Olaberria Dorronsoro (Spain) 3-41.176
10 Verena Joos (Germany) 3-42.611
11 Charlotte Becker (Germany) 3-42.821
12 Maria Luisa Calle Williams (Colombia) 3-42.930
13 Jolien D'Hoore (Belgium) 3-43.859
14 Lada Kozlikova (Czech Republic) 3-43.880
15 Ausrine Trebaite (Lithuania) 3-45.1
16 Dallia Rodriguez Hernandez (Cuba) 3-45.956
17 Olga Slyusareva (Russia) 3-47.161
18 Tatsiana Sharakova (Belarus) 3-47.636
19 Edyta Jasinska (Poland) 3-53.744
20 Gema Pascual Torrecilla (Spain) 3-56.365
21 Nontasin Chanpeng (Thailand) 4-01.997
2009 UCI TRACK CYCLING WORLD CHAMPIONSHIPS
Follow Cycling Weekly on Twitter>>
RACE REPORTS
The CW Hub: Track World Championships index
Men's team sprint: France beat Britain
Men's Points Race: Newton gets bronze
Women's individual pursuit: Houvenaghel beaten to silver
500m TT: World record for Krupeckaite, bronze for Pendleton
NEWS AND FEATURES
Track worlds day one: steady start for team GB
Why there's no Brit in the individual pursuit
No individual pursuit for Britain at track worlds
No room for complacency in British Cycling: Iain Dyer interviewCavendish in the frame for Scratch race world title bid
2009 Track Cycling World Championships preview
Crampton set to fill Sir Chris Hoy's team sprint spot
2009 World Track Champs GB squad named
Hoy to miss world track champs
Track World Championships: British medal winners
CW's Dummies' Guide to Track Racing
PHOTOS
GB RIDER PROFILES
Men
Jonathan Bellis
Steven Burke
Mark Cavendish
Ed Clancy
Matt Crampton
David Daniell
Ross Edgar
Jason Kenny
Chris Newton
Jamie Staff
Women
Lizzie Armitstead
Wendy Houvenaghel
Victoria Pendleton
Shanaze Reade
Joanna Rowsell
Jessica Varnish
RECENT RESULTS
International track results last season: 2007-2008
International track results this season: 2008-2009
2008 TRACK WORLD CHAMPIONSHIPS LINKS
Full results from the 2008 track worlds
Report: Sunday, day five>>
Report: Saturday, day four>>
Report: Friday, day three>>
Report: Thursday, day two>>
Report: Wednesday, day one>>
EXTERNAL LINKS
Track Cycling World Championships 2009 official website