Icons of cycling: The Buxton CC Mountain Time Trial
One of Britain's toughest events, cycling's finest have tested their legs at the Buxton CC mountain TT. This year's event takes place on Good Friday, March 30 2018 - Photo by Andy Jones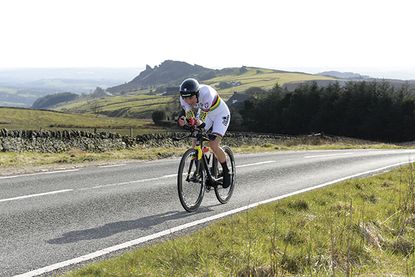 (Image credit: Andy Jones)
On the morning of Friday April 18, 2014, 138 riders assembled in the village of Longnor, near Buxton in Derbyshire, for the start of the Buxton CC Mountain Time Trial.
In the 42 years since the club had first organised the event it had come to be regarded as one of the most challenging time trials in the country, attracting some top names keen to test their legs on the hilly terrain.
That day in 2014 Dame Sarah Storey, Joanna Rowsell and Katie Archibald were the headline acts of a strong field.
Two years previously Storey had won the 22-mile women's event on a wet and slushy course after snow had threatened the postponement of the race.
This time round, in glorious sunshine, Archibald took home the £80 prize after blitzing the course in just over one hour and finishing 32 seconds ahead of Storey with Rowsell one and a half minutes back in third.
>>> Katie Archibald column: When team-mates turn into rivals
A domestic, early-season time trial it may have been, but this was a podium of Olympic, Paralympic and world champions, past and future. Archibald's winning time of 1:00:02 was a record, a mark that still stands.
Punishing parcours
Today held as a round of the six-event Knight Composites Classic Series, the mountain time trial was first organised by Buxton CC in 1972.
Initially the club used two laps of a 16-mile circuit that started and finished on Grin Low Road, near Harper Hill, and headed south along the A53 before turning east and descending to Longnor, returning to Grin Low Road via the B5053.
The route topped out at just over 500m. Forty-four riders entered that first event, which was won by M.W.Potts who covered the 32 miles in 1:31:46.
Other than a four-year period between 1974 and 1977, the club used the same circuit until 1990 when the start/finish line was moved to Longnor.
The route was tweaked in 2002 to that used today, starting outside the village's primary school and heading towards Axe Edge before turning south and the highest point of the route (480m) near Black Brook Nature Reserve. A descent back to Longnor with a number of stiff climbs en route completes the 11-mile lap.
Senior men take in three laps, everyone else tackles the circuit twice. It's a tough examination amid spectacular scenery.
With the event traditionally taking place on Good Friday the elements can play their part as well. When an athlete of Storey's stature describes an event as "brutal", as she did when recounting her 2012 win, it pays to take notice.
The 2018 edition is on March 30. The men's event record is held by Stuart Dangerfield, who registered 1:22:13 in 2003. Geoff Platts and Matt Bottrill share the record for most wins with seven each.
Thank you for reading 20 articles this month* Join now for unlimited access
Enjoy your first month for just £1 / $1 / €1
*Read 5 free articles per month without a subscription
Join now for unlimited access
Try first month for just £1 / $1 / €1