Icons of cycling: The Derny
Noisy, smoky and often ridden by a bloke with a beard, Dernys are an integral part of track racing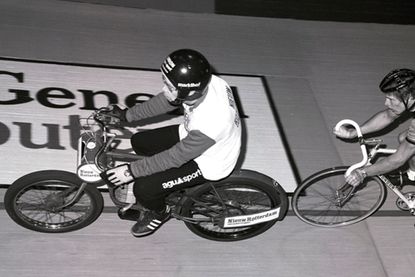 Jump-started in a cough of blue smoke, these buzzing, mini motorbikes were typically ridden by overweight ex-racers; legs turning slowly and knees stuck out to avoid the overhang of their stomach. Each with a lithe young rider pedalling furiously behind.
They were the original Derny pace bikes, ridden on the road and track by 'pacemakers', gangmakers in Dutch, and entraineurs in French.
The French name for a Derny pace rider provides a clue to their other use. Yes, they were used in motor-paced races, which ranged from a few minutes' excitement around a noisy, smoke-filled velodrome, to one of the longest single-day races there has ever been, Bordeaux-Paris, but they were also used to train riders at race speed, giving their legs, bodies, minds and reactions 'allure de course', the feel of a race.
>>> Watch: Geraint Thomas disqualified from Longest Lap again, this time for taking selfies
Dernys still exist as a generic term for a motorised pace bike, named after the creator of the original, Roger Derny. He made the first ones in 1938 for Bordeaux-Paris, which was at least 350 miles (560km) long, done in one go, and in the beginning the racers were paced all the way.
At first it was raced by cyclists working in relays, then as time passed by tandems then by small mopeds. The Derny was the first motorised bike made specifically for pacing cyclists.
The original Dernys were powered by 98cc two-stroke petrol engines, and on average their riders pedalled a massive 70x11 fixed gear.
>>> Electric derny bike causes upset at Track World Cup
This ensured that all the Derny's accelerations and decelerations were as smooth as possible, because the push of a pacer's legs and throttle-use combined offers more control than using the throttle only. That's crucial when the rider behind is a couple of centimetres from the Derny's rear wheel.
The modern Derny
The first Bordeaux-Paris was in 1891, then from 1945 until its demise in 1988 the competitors started together and met their Derny pacers shortly before halfway.
>>> Icons of cycling: Silk Six Day jersey
Each competitor had two Dernys; one to ride behind, and a spare that took over during refuelling or in case of breakdown. The original Dernys were also used in track racing, often as part of six-day races, where pacemakers would tune them to increase performance and use bigger gear ratios to increase the speed and spectacle.
>>> How they used to train: Stan Ockers's Derny session
Dernys are still used to pace track races. Not the originals, although they lasted well into the 1970s due to maintenance by a company called Service Derny in Paris. Modern Dernys are greatly refurbished old Dernys or copies made in Neerpelt, Belgium.
Thank you for reading 20 articles this month* Join now for unlimited access
Enjoy your first month for just £1 / $1 / €1
*Read 5 free articles per month without a subscription
Join now for unlimited access
Try first month for just £1 / $1 / €1