Inaugural Bike Blenheim sportive hailed a success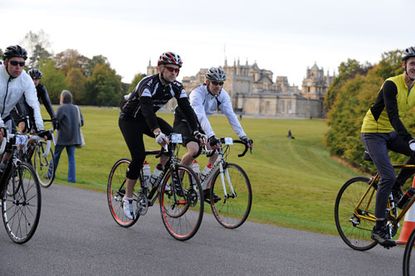 The first ever edition of the Bike Blenheim Palace cyclo-sportive has been hailed as a massive success by the organisers and all those taking part.
Over 1,200 riders headed out from the Oxfordshire stately home on Sunday, October 4, to enjoy either a 60- or 100-mile way-marked ride through the stunning Cotswolds scenery.
"After all of the effort, it's great to get so much positive feedback from everyone who took part," event organiser Paul Orsi told www.cyclingweekly.com.
"Initially we'd hoped to get seven or eight hundred riders taking part, so we were surprised to get well over 1,200."
Orsi will meet with the road safety management team in the coming weeks to assess whether the event could take more entries next year. The interest this year was so high that they extended the entry deadline this year to accommodate the numbers of riders wishing to take part.
"Next year we hope to get all the guys who did it this year to return, plus a load more."
Happy locals, happy riders
The reaction of the local community to the ride was very positive, so much so that the town clerk from Charlbury - one of the towns that the ride navigated - contacted Orsi to say they hadn't received a single complaint, and congratulated him on how well-organised the event was.
Both routes took in some of the Cotswolds' most famous and picturesque towns - including Stow-on-the-wold, Charlbury, Bourton-on-the-Water, Upper Slaughter and Lower Slaughter. The feed station at Lower Swell was a particularly busy spot, with many taking advantage of the free bacon rolls, bananas, biscuits and hot tea.
The sportive was just one of several events on Sunday which also included a time trial, Brompton world championship, cyclo-cross race and family ride. Over 7,000 cyclists and their families came to take part or watch the fun.
The Bike Blenheim Palace cyclo-sportive, supported by Cycling Weekly, will return again in October next year. Watch out for more details in Cycling Weekly and on the official Bike Blenheim Palace website.
Waiting for the start of the first ever Bike Blenheim Palace cyclo-sportive
Related links
Heras crowned Brompton world champion
Hutchinson wins Blenheim Palace TT
Thank you for reading 20 articles this month* Join now for unlimited access
Enjoy your first month for just £1 / $1 / €1
*Read 5 free articles per month without a subscription
Join now for unlimited access
Try first month for just £1 / $1 / €1