Inside the world of cycling's betting tipsters
Betting on bike races is becoming big business. We talk to some of the main online tipsters to get the inside story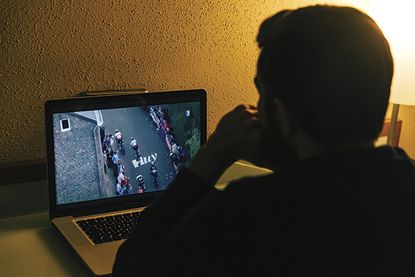 (Image credit: Chris Catchpole)
Get The Leadout Newsletter
The latest race content, interviews, features, reviews and expert buying guides, direct to your inbox!
Thank you for signing up to The Pick. You will receive a verification email shortly.
There was a problem. Please refresh the page and try again.
On a sunny day in Wallonia in 2014 Michał Kwiatkowski launches his bid for Flèche Wallonne glory up the Mur de Huy's final steep ramp. He is out of the saddle and opens a gap. He sits down briefly as Irishman Dan Martin comes around to take the lead, victory agonisingly close, but mere metres later Alejandro Valverde blasts past on the other side of the road. He distances the other two, extends his arms and blows a kiss to the sky as Martin leads home the peloton in a surprisingly neat single file.
It was an exciting finish and if you watched it, that's how you would likely remember the 2014 edition of the race. Unless you are Scottish maths teacher David Hunter, known to the public by his Twitter handle cyclingmole — one of the biggest cycling betting tipsters online. He wasn't watching the front of the race. His eyes were fixed on the green Belkin jersey of Bauke Mollema.
"I had won a big bet earlier that week and I took the majority of those winnings and put it on one of those head-to-head bets — it was Mollema v [Jelle] Vanendert," Hunter recalls. "Vanendert had come out the day before and said his knee was horrendous, 'I can barely pedal a bike,' and I'm watching it and he's still at the front, and still at the front…
"I was focused on them and they rode up the climb side-by-side! One would go in front and then the next. My guy came across the line first but I had to rewind the race to see who won."
>>> Tour de France: Latest news, reports and race info
Hunter is one of a small but diverse online community of cycling fans that have turned their knowledge of the sport into a way to make money — sometimes a lot of money — through gambling. This global, connected group includes marketers, students, City workers, doctors and a software engineer, not all of whom take as keen an interest in turning a profit as Hunter, but they do all like to find, and exploit, the best bets against an often hostile set of bookmakers. Some are so expert at predicting and reading races that even the pros are interested in what they think.
As a tipster, Hunter charges a band of 50-70 subscribers for his tips. Prices vary through the season but Hunter's fee of around £75 a month is typical. He's coy on exactly how much he makes but says it adds up to more than his teacher's salary.
"It's 10 months, January to October; I didn't charge the full price when I first started; it was £20 a month and I thought if I could get 10 people doing that it would be amazing and things grew and grew," Hunter says.
He adds that the high price of his tips is partly to keep the number of subscribers low as the good odds from bookmakers disappear quickly and disappear even quicker if large numbers of people bet on them.
That's probably why, Hunter tells CW, he had one customer make an extraordinary offer.
"He was a professional football gambler, that's his job," he explains. "He was going to pay me to make sure he got all the tips to himself. He made me a really good offer and he's a good guy. I probably would have done it but my numbers increased significantly this year [2017] and that meant I was going to take a step back on how much money I was making every month. Also, then it would have been a job and become something not enjoyable."
The joy of bets
Enjoyment is clearly central because since Hunter started gambling seriously the big wins have usually been spent on prizes: "I had a bizarre inclination I would buy things with the bets and they'd get a nickname in the house — I had a Mark Cavendish front door, I had a Tom Boonen coffee machine, my wife has a Nacer Bouhanni handbag."
But Hunter is not the only one doing this. In an upmarket bierkeller in the City, Cycling Weekly meets Ian O'Sullivan, better known by his Twitter handle of cyclingbetting. He too sells his tips, though only for the Grand Tours at £30 a race. He started putting up his tips on the Kingston Wheelers online forum in around 2011 but in 2013 he set up his own website after teaching himself web design.
He says it is not a replacement for his day job as a marketing consultant but that he makes "several thousand" a year and if you had £10 on each one of his bets at the Vuelta last year you'd be up £2,000 — though he says the Giro lost money and the Tour broke even.
It's not all about the money though — both O'Sullivan and Hunter express a deep love for the sport from a young age. "Cycling was popular in Ireland — where I'm from — at the time," says O'Sullivan. "But nowhere near what it is at the moment. I used to put elastic bands around the pedals to pretend I had toe clips."
>>> Vuelta a España: Latest news, reports and race info
Hunter adds: "Like most people my age I grew up watching the Tour de France on Channel 4. Then Eurosport started coming over and I started watching more races. One of my favourite moments ever was with [Miguel] Indurain. I spoke a bit of French from school, and I remember the commentator shouting 'Indurain lâché' – I still remember that to this day."
What is it that links all these people besides a love of the sport? Jesper Anker (@cyclinghubTV) was a Danish student when he became involved in this world when he started doing video previews for races, eventually joining up with Hunter. He knows everyone in this niche community and doesn't hesitate to answer when we ask him what connects everyone.
"They all have an ego. Every single one of them thinks they're the best," Anker says. "They are much more nerdy than the rest of the cycling community."
But Anker got into it for very different reasons. Sure, he wanted to make money but he wasn't using his knowledge of the sport to bet, saying he prefers money in the bank.
"The whole point of doing the previews was at some point I could show an employer. This whole world is all about what sets you apart; everyone has the same qualifications but it's all about the results. I've always had a big head, just like the other guys," he admits. It's a tactic that worked as he is now social media assistant at virtual cycling company Zwift.
Those egos come to fore most readily when it comes to the rivalry between O'Sullivan and Hunter — it's fair to say they're not big fans of one another. Rarely do the two interact these days since Hunter suggested on Twitter that O'Sullivan's nickname should be 'King w**ker' in 2013 and O'Sullivan responded in kind with several expletives and calling Hunter a 'parasite'.
When CW asks Hunter about the falling-out he brushes it off. "I always like to have pet hatred on Twitter; it keeps things interesting. It's all in good fun. It's not like there's real beef there," he says.
Bookmakers' nemesis
CW isn't sure O'Sullivan feels the same: "I don't know what that guy's problem is. He's got a beef with everyone; he thinks he's a self-proclaimed god of tipping.
"He was writing stuff that didn't make any sense and I corrected him a couple of times and that's what started it."
One group that all of them are opposed to are the bookmakers. "It's hard to get big money on because the bookies have restricted me across the board," says O'Sullivan in a response echoed by everyone CW speaks to.
"You can't avoid it. What's massively frustrating for me is I'll make my picks and almost as soon as I back them they'll cut the price."
He seems almost paranoid as he alludes to the bookies watching his account but given the size of the cycling betting market, which formed only a portion of the £2bn turnover of "other online sports betting" in 2016-17 compared with £7.5bn turnover in football and £5.8bn turnover on horse racing — it is maybe not unreasonable.
Hunter has a similar story: "Now I don't bet at all myself because of bookmakers limiting me. That's why I started charging, because I'm no longer able to get a bet on."
O'Sullivan adds: "A lot of these guys setting the odds don't really have a clue about cycling. There's not enough money for the bookies to have a cycling guy; it's usually another trader. Bet365 have a dedicated guy who's the best in the industry. He's always the first out with the most markets and generally pretty good with the odds. A lot of the time the others just copy him. Sometimes it's so blatant that they'll make a spelling mistake in someone's name and they'll put the same mistake in it," he says.
>>> Tour of Britain: Latest news, reports and race info
He continues: "I got really p***ed off last week in the Tour of Britain when Edvald Boasson Hagen 'won' the stage but was then relegated for blocking Elia Viviani. I backed Viviani but the bookmakers settle on the podium ceremony. I said: 'You won't find EBH as the winner… what you are doing is settling the race while a stewards inquiry is going on?' If it suits their agenda, they go with it."
CW contacted Ladbrokes, Bet365 and Paddy Power but they declined to comment. A spokesperson for William Hill said decisions to restrict customers were "exceptional and never routine" and that the company employed a specialist cycling compiler.
This distaste only adds to the joy when they win of course. "It was the Tour Down Under; it was a kind of re-freshers week at university so I was slightly intoxicated the whole week," recalls upcoming tipster Jamie Haughey.
"I had [Simon] Gerrans for the stage that he won in the sprint where he beat Ben Swift and Giacomo Nizzolo. I had £50 for the win, and £50 each way, so £100 in total, and he was 66-1. I got that with BetVictor, as did David [Hunter] and several other people I think. BetVictor then pretty much shut down their cycling markets for the rest of the year until the Tour," he recalls with just a little glee.
Haughey hopes to get a job in cycling or the media off the back of the previews he writes on his website and his tips. Like everyone who does this he puts in hours of research.
>>> Gamblers could fix races by hacking into team radios and talking to riders, says new UCI president
"It's almost a part-time job for me," he says. "I'll use official profiles but more often than not I'll download the road books and use Strava or Velo Viewer to make my own — the road books aren't always correct. Hopefully I get an edge that way and it helps me see the stage more and have a better understanding of it. I'll then check the weather forecast and the wind for the possibility for echelons."
There are other factors too that can prove surprisingly crucial. O'Sullivan says: "In the Vuelta, one day I put up my selections the night before and said who was going to win the stage and then I spotted that the next day it was Alexey Lutsenko's birthday and it's just one of those crazy things that guys want to get in the break on their birthday. I went straight on and updated the preview and said I'd seen that and he's almost certain to get in the break and I wouldn't be surprised if he wins that day." He was second.
O'Sullivan adds: "It drives me nuts when you see a guy win and then his parents or girlfriend is at the finish line. You wouldn't believe the amount of times guys win when their girlfriend has come from Spain or Germany. I'll tweet a picture of the guy celebrating with his family with, 'Why didn't we know this this morning?!' They get these extra watts from somewhere when they know their girlfriend or child is at the finish."
Everyone has their methodology but few go as far as one man. "He is a math genius," says Anker. "I call him Mr Moneyball."
Mr Moneyball
Mr Moneyball — named after the film about US baseball coach Billy Beane, played by Brad Pitt, who gained success through in-depth statistical analysis — is actually Arjan Zoer, a Dutch software engineer and manager with the Dutch national grid.
In his spare time he's built an in-depth race-predicting database that, using statistics, will account for form, the parcours and how the race will pan out, to predict the winner.
"I said to Jesper, 'You're giving me too many credits,'" he says when CW asks about the nickname. He then goes on to explain a little about how it works: "Take the Tour de France; every stage has its own profile so if it's a flat profile someone who wins probably has a high number of sprint wins… So I created something that collates the results from the last four years — I have an algorithm that downloads them automatically.
"I use the UCI weight of the result. For instance, a WorldTour race has a higher difficulty and therefore has more points and a 1.2 has less points.
"I do factor in the form of the past six weeks; for me that's a good correlation to the winner; someone who has had good results in the past six weeks."
But does it work? "There is always a chance that the break will make it but if the break doesn't make it I will usually get the top five correct, but not always the order."
He says it's a constant mission to improve. He points to the races held in Asia towards the end of the season like the Tour of Quinghai Lake and the Japan Cup, both of which are rated Hors Catégorie by the UCI but attract a weaker field than European races in that category. When he started he hadn't weighted his model to account for that; now he has.
"Every year I think of something to create on holiday and when the kids are playing on the beach I sit with my laptop and do it," he says.
The drive to Excel
However, Zoer isn't a big gambler, so why go to all the trouble? "I found it interesting that the Spaniards thought Alberto Contador was better climber than Robert Gesink. There are a whole bunch of cyclists that you don't know much about and I wanted to try to get the emotion out of the equation and predict who would be good on a certain parcours."
He's not interested in making it a profession either, though he says he has had some enquiries from bookmakers, and he wouldn't be averse to consulting for a team.
"I see it as sport," he says. "I think I'm the geek of the bunch, they refer to me as the guy with the huge Excel spreadsheet. It's quite a blokey environment, some bold statements and banter, but we do have some girls in our midst. It's more, 'I know it better than you do'. There is a lot of appreciation when someone gets it right, a lot of congratulations when someone predicts it well."
The one set of people that might stand to gain the most from Zoer's model are the riders themselves. Multiple riders already talk to Anker, Hunter and O'Sullivan. "They look at how I analyse their sprint stage and quite often they'll say my analysis is more detailed than the one they get on the team bus," says Hunter.
http://www.youtube.com/watch?v=MVxK9VVOkQY
One of the most prominent of those riders is Ag2r Belgian rider Oliver Naesen, who has appeared on Hunter and Anker's preview videos in the past.
"Before a race these guys watch the start list and they know who is who," he says. "You don't necessarily see all the riders beforehand so if some guy is sick you don't know that. It's nice to know a little bit more about the adversary that you're up against; they give some insight that you don't see on the start list." Though he points out that riders are, quite understandably, not allowed to bet on the races.
The riders aren't always the tipsters' friend, however. Most people CW speaks to have a story of frustration with a rider for doing something unexpected that would be of little consequence if it didn't affect their bets. O'Sullivan recalls frustration with Chris Froome after he sprinted to 11th place on the Vuelta's final stage last year to claim the points jersey from Matteo Trentin.
Given those unpredictability, is it something any cycling fan could get into and make some money from? "Definitely not," says Hunter. "This has been about 30 years of watching cycling and a certain level of dedication over three or four years and building up a knowledge of the sport.
"Don't get me wrong, they can go on and get a bet, but doing that for a whole season is really hard," He adds later, with just the hint of a joke: "I'm the Bradley Wiggins of cycling tips."
Betting terms: a beginner's guide
Accumulator: a series of bets where each has to be won to be paid out. The winnings from each bet roll over onto the next one.
Head to head: a bet that pairs two riders and you bet who will finish first.
On the nose: a bet to win — the term comes from horse racing.
Each-way bet: a bet for a podium place or a win. Odds are lower for the placing part of the bet, usually a quarter or a fifth of the odds to win.
Fun and games
#cyclinggame
While much of the online betting community revolves around odds and form it has plenty of lighter moments. Hunter runs a game in which his followers have to pick a slightly obscure rider and give them encouragement on social media throughout the season.
"There is a pretend points scheme," says Hunter. "You get five if they favourite your tweet, 10 if they follow you."
Though last year's winner Warren Philips didn't receive one interaction from his chosen rider Matej Mohoric, then riding for UAE Emirates, his persistence in tweeting him every day updating him on his own life — typical tweets were: "Payday in a couple of days @matmohoric a decent(ish) one this month @cyclingmole I'm thinking new overshoes and a new bike lock. Exciting eh?" — won him the championship, of which Hunter is judge. This year he is supporting EF Education First-Drapac sprinter Dan McLay.
Fantasy league
Zoer runs an intricate fantasy league, where players have to bid for riders in a draft at the start of the season and then the points from races each week are paired off between each player's team, like football fixtures. For him it's an opportunity to test his prediction model — he finished second in 2017 — and the winner gets £130. Hunter was second to last in 2017.
The original version of this article appeared in the February 1 2018 issue of Cycling Weekly magazine.
Thank you for reading 20 articles this month* Join now for unlimited access
Enjoy your first month for just £1 / $1 / €1
*Read 5 free articles per month without a subscription
Join now for unlimited access
Try first month for just £1 / $1 / €1
Get The Leadout Newsletter
The latest race content, interviews, features, reviews and expert buying guides, direct to your inbox!
Having trained as a journalist at Cardiff University I spent eight years working as a business journalist covering everything from social care, to construction to the legal profession and riding my bike at the weekends and evenings. When a friend told me Cycling Weekly was looking for a news editor, I didn't give myself much chance of landing the role, but I did and joined the publication in 2016. Since then I've covered Tours de France, World Championships, hour records, spring classics and races in the Middle East. On top of that, since becoming features editor in 2017 I've also been lucky enough to get myself sent to ride my bike for magazine pieces in Portugal and across the UK. They've all been fun but I have an enduring passion for covering the national track championships. It might not be the most glamorous but it's got a real community feeling to it.