Interview: James Shaw
James Shaw has been a road racing revelation this season, winning both the junior versions of Kuurne-Brussels-Kuurne and Het Nieuwsblad, as well as dominating in the National Road Race Series. CW caught up with him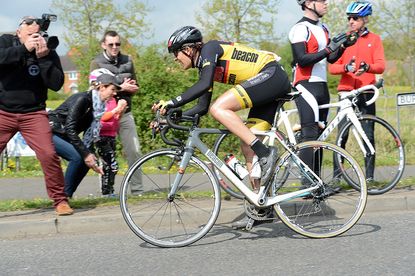 (Image credit: Andy Jones)
How surprised have you been by your run of wins?
JS: I didn't expect to be winning UCI road races, but I had a good winter.
I believe you are another of John Barclay's protégés?
JS: Yeah. I know Cycling did a big feature on John, but I've got so much respect for him, he's helped so many riders and he's given me an amazing opportunity and chances like that don't come around every day, so you have to make the best of them. Winning Kuurne at the start of the year was a huge confidence boost and it sort of followed into other races.
You won the first three rounds of the National Junior Series (Cadence Road Race, Tour of the Mendips, CiCle Classic) and are sitting second overall. It must be getting harder as a marked man?
JS: Yes, obviously people start marking you quite heavily but that's racing and you can't complain because they wouldn't be bothered if I wasn't winning. You've just got to improve your tactics and timing. In a way it helps you improve your race skills, so I shouldn't complain!
You work in a local bike shop part-time, which I suppose means you get time off to train and race?
JS: Well, I did work part-time in a bike shop and it was great, but it just closed down yesterday, so I'm now technically unemployed.
Couldn't you just become a student?
JS: I didn't like school that much. I did OK, but there were times I was coming back from racing in Belgium, I'd get back home at two in the morning and be walking into school a few hours later like a zombie, surrounded by everyone bouncing about after their weekends.
You're happier with the lifestyle of a bike rider?
JS: Yeah, I see it as an opportunity so I'm getting my head down and making the best of it.
When you are abroad with the team are you lost if you haven't got your laptop or wifi?
JS: I'm not that bad, but I'm not a big technology fan. My younger brother is 15 and he's just built his own computer, so he got the technology gene and I got the sports gene. Having said that the first question I ask when I get to a hotel is: 'What's the wifi code?' Followed by: 'Where is the coffee machine?' A typical bike rider on tour.
When you are at a stage race, does it feel like a road trip or a job?
JS: Well we are a group of mates and we can have a laugh but we know when to get serious. We know when to turn the lights out at night.
I hear that you go out with the Parrots.
JS: Oh yeah, the Parrots chaingang. I have no idea why it's called the Parrots by the way, but it's a good group that goes out from Nottingham on a Saturday. I end up doing five hours, depending on the route; it's good in the winter.
You obviously can't spend all your time training. So…
JS: Yeah, that's true, you have to relax and recover between sessions. I like my music and I'm pretty keen on guitars, I've got a few, so I like playing guitar.
Classical Spanish?
JS: No, I'm a fan of what you might call mod. Have you heard of Miles Kane?
Ummm…
JS: He's played with Paul Weller and the Arctic Monkeys. The Last Shadow Puppets? I like that sort of stuff.
Will you be tempted away from cycling by sex and drugs and rock n' roll then? You just turned 18 after all.
JS: No, I don't see that happening. I don't feel I'm missing out on that stuff, for me riding a bike isn't really a sacrifice. I'd rather be riding my bike.
There are some sacrifices though, surely?
JS: Well, when you come in after a long ride sometimes it can be hard to resist reaching for the chocolate croissants, but, y'know, it's like they say, everything's OK in moderation.
So you do treat yourself sometimes then?
JS: I treated myself to beans on toast after my last five-hour ride.
With cheese on top?
JS: No, just straight beans on toast. It's the food of the gods…
Cycling Weekly interview Peta Mullens, Wiggle Honda's Australian mountain bike champion, who tells us the main problem with pro cycling
A fast rider and an even faster talker, Specialized-lululemon's notorious Australian adventurer and resident fashion enthusiast sits down with CW
Paul Cooper speaks with BMC's British hard man Steve Cummings on his up and down career
Thank you for reading 10 articles this month* Join now for unlimited access
Enjoy your first month for just £1 / $1 / €1
*Read 5 free articles per month without a subscription
Join now for unlimited access
Try first month for just £1 / $1 / €1