Is the Boncho the next thing we'll all be adding to our cycling wardrobe? (video)
Dutch company Vanmoof has already smashed its Kickstarter target for the Boncho - the poncho that keeps you dry when cycling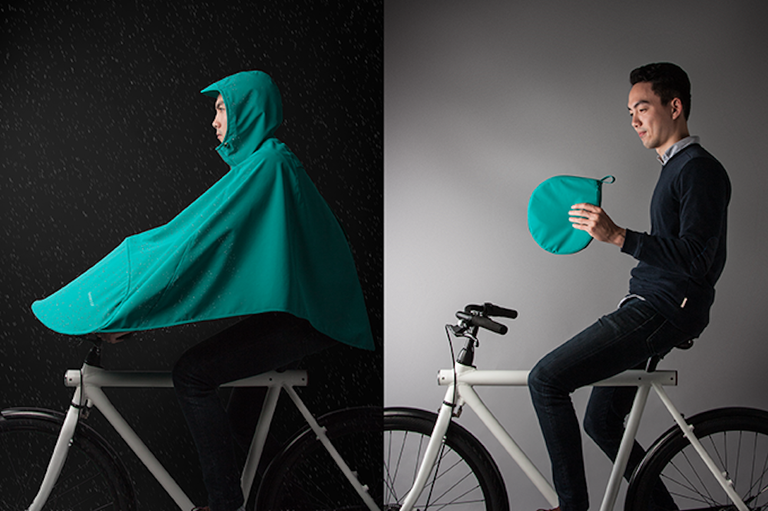 Cycling apparel manufacturers have spent millions trying to perfect the wet weather jacket, but Dutch company Vanmoof could have just trumped everyone with this poncho contraption.
Granted, it's probably not the best thing for a racing cyclist or one who likes to get their chin as close to the handlebars as possible as it's not very aero, but for your everyday commuter or leisure cyclist the Boncho could be the perfect contraption.
Now, there's nothing new about a rain cape. Cyclists have been wearing these for decades, although the Boncho's rigid front may have advanced the design on a few notches.
Judging by the promotional video, the Boncho can be folded up into itself - although it doesn't look a particularly small package - and then explodes out like a pop-up tent.
The firm frontal part of the Boncho sits across your arms and handlebars, keeping your legs dry at the same time, then the hood and back work like any normal poncho.
Vanmoof claim the Boncho is 100 per cent water repellent and waterproof as well as being breatheable - quite a feat if it actually turns out to be true.
The Boncho has already surpassed its €15,000 Kickstarter target, with the funding sitting at over €50,000 with 15 days to go. €55 will get you a Boncho if you donate on Kickstarter, with €495 getting you 10 of the things - enough for you to start a Boncho Cycling Team.