ITV mistake Sir Chris Hoy for Back to the Future star
While doing the rounds to promote Go Sky Ride 2015, Sir Chris Hoy was handed a name badge by security at ITV studios bearing the name Sir Chris Lloyd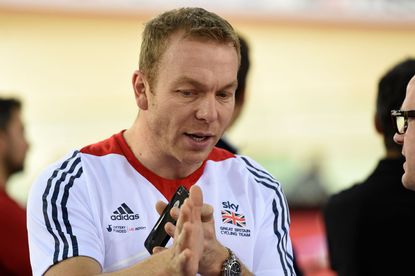 As cases of mistaken identity go, Sir Chris Hoy was involved in a pretty good one this week as he did the rounds of television news to promote Go Sky Ride 2015.
At the ITV studios, the 38-year-old Scottish former track cyclist was handed a visitors badge bearing the name of 76-year-old Back to the Future star, Chris Lloyd.
Luckily, Great Britain's most decorated Olympian was able see the funny side, tweeting a picture of the badge bearing his new name.
>>> Sir Chris Hoy to receive BBC lifetime achievement award
Hoy famously rolled back the years at the London 2012 Olympics, picking up his fifth and sixth career gold medals at the age of 36, but nothing compared to Lloyd's 'Doc' character's time-travelling antics in the famous film series.
It's not the first time that Hoy has been mistaken for someone else, with the retired cyclist often getting abuse on Twitter that's actually aimed at football referee Chris Foy.
And last year he was asked for ID as he entered the velodrome that carries his name in Glasgow.
Go Sky Ride returns for 2015, with 15 events taking place across the country between May 31 and September 27. A further 106 towns and cities across Britain will host a Sky Ride Local to give people the opportunity to gain more confidence on two wheels.
>>> Sir Chris Hoy: good nutrition is crucial to performance
Hoy said of the scheme: 'Sky Ride is already making a real difference by showing people how great it is to get around by bike. Our rides offer something for everyone, whatever their age or ability – from our traffic-free Sky Ride big bike events in cities across England to our group rides guided by locally trained Ride Leaders.
Thank you for reading 20 articles this month* Join now for unlimited access
Enjoy your first month for just £1 / $1 / €1
*Read 5 free articles per month without a subscription
Join now for unlimited access
Try first month for just £1 / $1 / €1