James Ketchell: around the world expert
We salute the one and only James Ketchell — the first person ever to row across the Atlantic, climb Mount Everest and cycle unaided around the world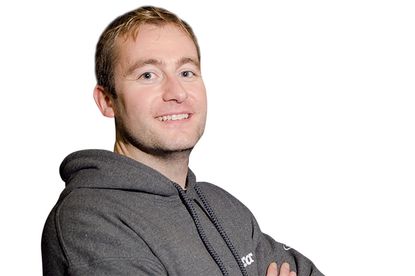 (Image credit: James Ketchell)
Get The Leadout Newsletter
The latest race content, interviews, features, reviews and expert buying guides, direct to your inbox!
Thank you for signing up to The Pick. You will receive a verification email shortly.
There was a problem. Please refresh the page and try again.
At the beginning of this month, James Ketchell rode across the finish line in Greenwich, London, to complete his 'ultimate triathlon' — the end of a long journey that initially began with a motorbike crash. Laura Laker caught up with 'Captain Ketch' to talk about his ride around the world.
How did a motorbike accident inspire you to do all this?
James Ketchell: I used to race; I had a Kawasaki ZX Ninja. I ended up in a high slide, and when the human body hits tarmac at 100mph and you tumble, that's when things go wrong. I broke my legs, shattered my ankle, broke my arm and my hand and then all I remember was waking up in hospital.
I was lying there and I thought: 'I can sit here and feel sorry for myself or I can do something about it.' I'd always wanted to row the Atlantic, but if I'm honest, I never had the balls to do it, and I thought, 'I need something to work towards.'
How do you recover from an accident to go on and take on all these challenges? You were told at one stage you'd never walk properly again.
JK: I believe that it's all in the mind. I wanted it badly and I believed I could do it. Saying that, before the accident I thought I was invincible. I was a bit blasé about it. The doctors were quite negative, saying: 'You shattered your ankle; you're lucky we didn't have to bolt it in position.'
What equipment did you take on your ride?
JK: I wanted to get round the world in six months, so I had to travel pretty light. I used these Revelate frame bags, carried a bivvy bag, spare T-shirt, a laptop and other bits and bobs. Lots of inner tubes, too. I had over 100 punctures in 213 days.
Some days I was having four or five. It's just bad luck. I thought: 'Am I doing something wrong?' I was on the main roads where there's grit and sharp stones and bits of wire from shredded tyres.
How much training did you do before?
JK: I cycled across America in 2012 from San Diego to St Augustine, the Southern Tier route. I hadn't done a great deal of cycling and I thought I'd need to do some prep. I managed it in 22 days, an average of 120 miles a day.
I was unsupported, there was nobody sorting all my food out for me. The cycling is actually easy. If you get up and you're on the road at seven in the morning, by seven at night you're there, unless you're very slow.
"Guys in India wanted to touch my unusually Lycra-clad legs. 'Are you Superman?' they'd ask"
You wrote in your blog that it was harder mentally than physically.
JK: That was the hardest thing I've done, mentally. Getting on the bike every day when you maybe feel a bit tired, it's pouring with rain, maybe you've got a headwind and basically your legs are aching. Imagine riding 100 miles a day for half a year: 18,000 miles is a long way.
I hit a massive wall at the halfway point, just before America, and it struck me that it's taken a while to get halfway through and I've still got to do it all over again.
How do you deal with that?
JK: The trick is to not think too much because your mind will play tricks on you, telling you you're not fast enough, you're not strong enough, you're letting everyone down who's helped you.
If any kind of doubt creeps into your mind you've really got to block it out completely, otherwise it'll end up ruining you.
What I found was that routine really is your best friend. By seven or eight you have to be on that bike otherwise you'll start cutting it shorter and shorter and you'll also start having lie-ins and begin to get lazy and those are the sorts of things you really don't want to get in the habit of doing.
Did you have any hairy moments?
JK: I basically went the whole way across America on Warm Showers [a website that facilitates touring cyclists by finding local hosts to accommodate them]. I was going through Mississippi to Baton Rouge.
I was coming up onto this bridge and cars and trucks were whizzing past me. There was a huge gap where two pieces of concrete join together, and I went down. There was no hard shoulder and I had to walk the bike with all the cars beeping at me. Baton Rouge has the second-highest murder rate in the US — I was 10 miles from a bike shop, so I looked on Warm Showers to see who was nearby.
The guy I rang was amazing: within 15 minutes he got in his truck, drove down, picked me up and took me to a bike shop.
What were the highlights?
JK: Meeting people was one of the best bits. Another Warm Showers guy and his wife in Phoenix looked after me for two days. He actually flew all the way from Phoenix to meet me in Greenwich when I finished!
On Warm Showers they are all cyclists and I would question anyone who disagrees with this: you'll never find a proper cyclist who is unpleasant, they were all such nice people, they couldn't do any more for me. They saved me money, gave me local knowledge and they'd join me for parts of the ride. I was able to interact with people, and that became such an important part of the experience.
What were the worst bits?
JK: The roads in Ukraine were shocking; we're talking potholes like a digger had just dug a hole in the ground. If you fell down one, it would just end your world cycle. It was just madness. Probably the worst part was I was hit by a tuk-tuk in India. I didn't break any bones, but he winded me and completely destroyed my front wheel. I was in a place called Bikaner, Rajasthan. The nearest bike shop was 200 miles away.
India often provides round the world cyclists with 'experiences'.
JK: You don't wear Lycra shorts in India; I learned that. I was getting unwanted attention, guys were coming up to me and asking if they could touch my legs. The guys that could speak English were like: "Are you like Superman?" I was going almost as fast as people were on their mopeds and they had never seen anything quite like it before.
You're a scout ambassador too — tell us about that.
JK: Scouting teaches adventure, fun, friendship, determination and all these fantastic life lessons that are important for young children. Years ago, scouting was seen as very geeky, but now it's done a U-turn: you've got Bear Grylls as Chief Scout, and there's a large waiting list because they don't have enough volunteers. One of my jobs is to try and recruit and encourage adults to volunteer.
What music did you listen to on the road?
JK: I only loaded 300 songs on the iPod. I knew the order of every song, one after the other. That was a bit of an oversight.
How did it feel when you finally finished?
JK: I was overwhelmed by the amount of support I received. All the young kids [scouts] were sending me pictures of them with their scouting ambassador badges, which lifted my morale. And when I came into Greenwich Park and I saw all those people it made all those tough times worthwhile. It was a crazy adventure, that's for sure.
Not satisfied with being the only person to row an ocean, summit Everest and cycle around the world, Captain Ketch is now rowing 3,600 miles across the Indian Ocean in 2015 with his friend, Ashley Wilson, from Geraldton, Western Australia to Port Louis, Mauritius.
James Ketchell's goal is to raise £18,000 for charity ELIFAR (Every Life Is For A Reason), which provides grants for equipment for disabled children and adults. Visit his page: www.justgiving.com/captainketch to donate.
Thank you for reading 20 articles this month* Join now for unlimited access
Enjoy your first month for just £1 / $1 / €1
*Read 5 free articles per month without a subscription
Join now for unlimited access
Try first month for just £1 / $1 / €1