Janet Street-Porter bemoans improvements to London's roads, plus more cycling videos
The television personality misses the irony in her own statements as she complains about the new cycle infrastructure in Central London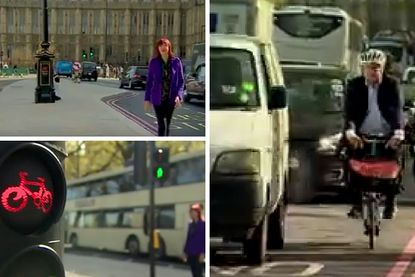 Janet Street-Porter has spoken out about developments that she thinks have "brought London to its knees".
To save you having to think of what apocalyptic scenarios could bring one of the world's leading cities to the brink disaster, we'll save you the trouble: Janet doesn't like bikes.
Standing next to free-flowing traffic, JSP complains about the chronic congestion afflicting Britain's capital city. Footage of man not using the cycle lane (on a road that doesn't presently have one), shows a van belching out fumes: but the blame for pollution is attached to the emissions free bicycles.
>>> New London mayor Sadiq Khan must follow through on cycling promises, says Boardman
If the audio on this video were to be cut-up and re-ordered, there could be a lot of sense in what's being said: walking around London can be unpleasant when the roads are clogged and the air is choked. Less pollution would benefit children, the elderly and disabled people trying to make their way around.
However, failing to identify that this will only be solved by there being fewer vehicles not more road space to fill up with more vehicles really misses the point.
Highlights from the Women's Tour of Chongming Island
https://www.youtube.com/watch?v=sCdjKOw3urI
The UCI Women's WorldTour continued with the first stage race outside of Europe in the shape of the Tour of Chongming Island.
The racing was frenetic on each day and in the end Wiggle-High5's Chloe Hosking came out on top thanks to a consistent performance and accumulated time bonuses.
The overall result did not affect the standings in the overall WorldTour competition, which is still led by Lizzie Armitstead (Boel-Dolmans).
Maarten Tjallingii's children steal the show
Racing into his hometown, Maarten Tjallingii knew he'd done enough to get a trip onto the podium to receive the king of the mountains blue jersey at the Giro d'Italia.
Climbing the steps in Arnhem, the Dutchman took his children with him and it was they who got the biggest cheers.
Another great video from Orica-GreenEdge
https://www.youtube.com/watch?v=TbujgRJq5cM&feature=youtu.be
Orica-GreenEdge make some excellent videos, and in truth they will probably never top this year's behind the scenes look at Paris-Roubaix. But that's fine, because it's brilliant.
Going some way to making up for the lack of official highlights, OGE give us the lowdown on the Giro d'Italia using toys and a jar of asparagus.
Fingers crossed for more of these throughout the Giro and throughout the season.
Alex Dowsett's toughest day
Grand Tour stage winner, multiple time trial champion and hero of a very long breakaway at the 2014 Tour of Britain, Alex Dowsett's toughest day will probably surprise you.
London's new cycle infrastructure
https://www.youtube.com/watch?v=gLsMb1km7MI
With the Giro d'Italia having spent three glorious days in the Netherlands, it gave everyone living elsewhere (with the exception of Denmark) the chance to see what decent cycle infrastructure actually looks like.
However, London is slowly but surely crawling its way in the right direction, as this video from YouTube user sw19cam shows us.
The segregated, well surfaced cycle lanes on formally car clogged roads are already proving hugely popular and should go some way to expanding cycling's appeal as a viable form of transport for everyone.
Exposure to air pollution decreases on segregated cycle lanes
https://www.youtube.com/watch?v=E9EBKlRe7RU
How's your Dutch? Never mind, the graph is pretty obvious: when the rider is forced between traffic and parked cars air particle pollution is high. When they move slightly away from the exhaust pipes and onto the segregated lane, the particle concentration drops.
This bodes well in relation to the previous video showing London's progress, as Britain's capital is also heavily polluted.
Thank you for reading 20 articles this month* Join now for unlimited access
Enjoy your first month for just £1 / $1 / €1
*Read 5 free articles per month without a subscription
Join now for unlimited access
Try first month for just £1 / $1 / €1