Job Vacancy: Digital Marketing Executive, UK Cycling Events
We're looking for an experienced E-Commerce/Digital Marketing Executive to join the UK Cycling Events team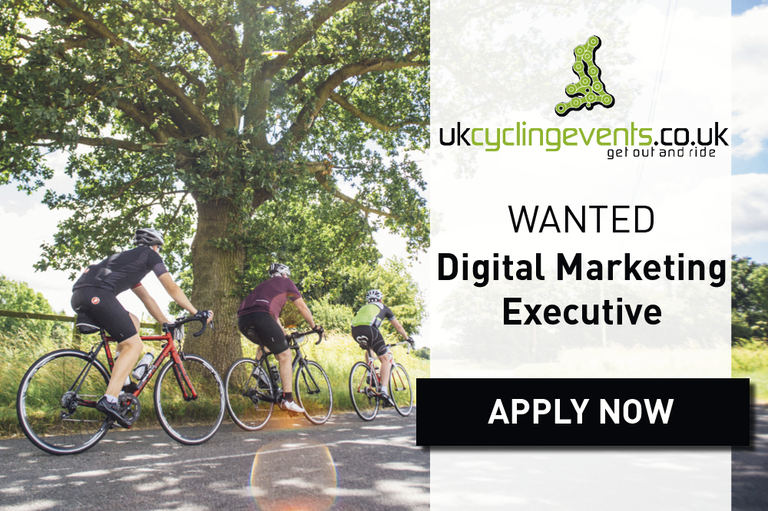 UK Cycling Events is a dedicated cycling events company, which is passionate about encouraging all abilities of rider to experience the best cycling the UK has to offer, delivering over 70 events a year throughout the UK and France.
We are looking for an experienced E-Commerce/Digital Marketing Executive to assist in the planning, execution and optimization of our marketing strategy to drive event ticket sales.
You will understand our audience's passion for cycling and thrive on creating and delivering engaging campaigns through email marketing, CRM, PPC and social media channels.
Main day to day responsibilities:
Develop and implement digital marketing campaigns through email and social media
Develop and maintain ongoing customer retention strategy (CRM)
Produce all assets to support digital marketing communications: briefing designers, using Photoshop and email delivery platform (Campaign Monitor/Salesforce Exact Target)
Oversee our social media strategy and manage community: Including responding to member questions and feedback
Liaise with event sponsor/affiliate partners to keep them updated and ensure campaigns are activated in line with contractual agreements
Maximise event engagement through event sponsor/affiliate partner digital platforms
Manage all marketing assets for use internally and externally and approve use where necessary
Manage set-up and reporting of all promotional codes on e-commerce site (Shopify)
Regularly analyse and report on all digital campaigns
Acquire insight in digital marketing trends and monitor competitor activity
You should have:
Proven experience as E-Commerce/Digital Marketing Executive or similar role
Excellent understanding of digital marketing concepts and best practices
Experience with B2C social media and email campaigns
Skills and experience in marketing creative and copy
Working knowledge of Campaign Monitor or similar email delivery platform
Knowledge of web analytics tool i.e. Google Analytics
Google Adwords experience would be an advantage but not essential
Excellent communication and project management skills
Passionate and enthusiastic about cycling or sport would be an advantage
Think you've got what it takes? Then we'd like to hear from you!