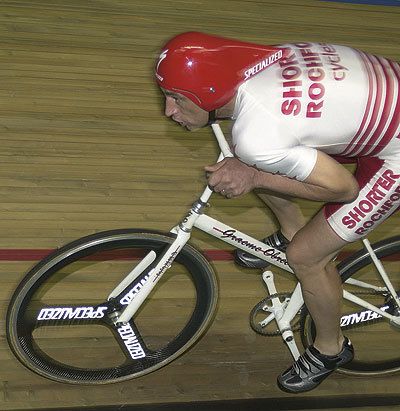 Cycling legend Graeme Obree joins a host of Six-Day stars at Saturday's (December 9) Revolution track meeting at the Manchester Velodrome.
Obree (pictured), Danny Stam, Peter Schep, Iijo Keisse, Marco Villa, Franco Marvulli and Bradley Wiggins are all confirmed as participants in the endurance events. Wiggins also joins in the sprint action, lining up alongside David Millar, Craig MacLean, Jan Van Eijden, Jamie Staff, Jason Kenny and Roberto Chiappa.
As ever, up-and-coming talent will be on display in the DHL Future Stars event. The Future Stars has been Revolution's revelation this season, with the young riders proving more than a match for the seasoned pros.
Advance tickets for the event are on sale via www.cyclingrevolution.com, or you can purchase them on the door on Saturday. Alternatively, you can obtain tickets by calling either 07005 942 579 or 0161 223 2244.
REVOLUTION 15: SCHEDULE
1. Royles Team Elimination - 30 laps
2. Ravenswood Sprint Omnium 200m Time Trial
3. DHL Future Stars 5km Scratch Race - Boys
4. DHL Future Stars 1 Mile Dash - Girls
5. Ravenswood Sprint Omnium - Sprint Round 1
6. DHL Future Stars Madison - 50 laps
7. Ravenswood Sprint Omnium - Sprint Round 2
8. Plowman Craven Points Race - 10km
9. DHL Future Stars 1 mile Dash - Boys
10. DHL Future Stars Devil - Girls
11. 24-7 Recruitment 1km Madison Time Trial (six teams)
12. Science in Sport Mixed Flying Team Sprint
13. DHL Future Stars Devil - Boys
14. Isaac Galvez Memorial Madison - 20km
15. Ravenswood Sprint Omnium - Sprint Round 3
16. DHL Future Stars 5km Scratch Race - Girls
17. The DHL Pursuit Challenge - Obree v Future Stars Team
18. Ravenswood Sprint Omnium - Keirin
Doors open at 5.30pm, racing starts at 7pm
Thank you for reading 20 articles this month* Join now for unlimited access
Enjoy your first month for just £1 / $1 / €1
*Read 5 free articles per month without a subscription
Join now for unlimited access
Try first month for just £1 / $1 / €1