KASHECHKIN'S 45-MINUTE CLAIM IS AN ARGUMENT OF MASS DISTRACTION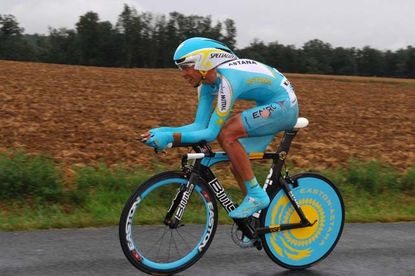 The claim from lawyers that the UCI?s blood collectors missed a deadline when they visited Andrey Kashechkin on holiday in southern Turkey on August 1 has been been debunked.
At a hearing in Liège, Belgium, yesterday, the former Astana rider?s legal team claimed that the blood test was conducted at 10.45pm ? outside a 6am to 10pm period when anti-doping tests are permitted.
But there is no such regulation in either the UCI?s rules and there is flexibility in the World Anti-Doping Agency?s code allowing testers to come knocking at any time.
Kashechkin tested positive for a banned blood transfusion after the UCI?s testers visited him in Belek, where he was on holiday with his wife. He left the Tour de France early with the rest of his team, following Alexandre Vinokourov?s positive test.
The Kazakh rider is part of the UCI?s registered testing pool, which requires him to provide accurate information about his whereabouts so he can be tested out-of-competition. This is a list of prominent riders ? all world champions in all disciplines, for example ? and riders deemed to be at risk of falling foul of anti-doping rules.
Kashechkin was visited at 10.45pm Turkish time. Late in the evening, but not intolerable, the dope testers would argue.
In part 14 of the UCI?s anti-doping rules, point 74 states: ?Only riders included in the registered testing pool are required to provide whereabouts information; however any rider may be tested out-of-competition at any time and at any place.?
The basic principle of the WADA code states: ?The ADO [The Anti-Doping Organisation] reserves the right to test an athlete at any time and at any location.?
However, later on, in a section on the practice for tests without any advance notice, it states: ?The DCO [Doping Control Officer] shall attempt to locate the athlete between the hours of 7am and 10pm. The DCO may attempt to locate the athlete outside of these hours in certain circumstances (eg the athlete has indicated availability for testing outside of these hours or has failed to provide any time).
Last month, in an interview with Cycle Sport, head of the UCI?s anti-doping services team, Anne Gripper, said: ?To be honest, we don?t have to justify any tests. Any rider who signs up and has a licence can be tested pretty much any time in any place. But we try not to take that heavy-handed approach.?
The Kazakh's legal team?s job will be to attempt to demonstrate that Kashechkin?s rights were infringed when the dope testers arrived at 10.45pm ? however, the regulations state that this is perfectly acceptable.
On the other hand, the UCI should be able to demonstrate that the regulations and requirements were perfectly clear when Kashechkin applied for his licence, and when he accepted that he had been added to the registered testing pool, which numbers almost 300 elite riders. He didn?t object then ? only when his test returned positive.
The case has been brought by Kashechkin against the UCI. The legal team representing the rider is the same that helped Jean-Marc Bosman to dismantle the transfer and contract system in football in the 1990s and there are some parallels in this case. If successful, Kashechkin?s case could have serious ramifications for the anti-doping legislation.
RELATED LINKS
Comment: Human rights? Don?t make me laugh
Kaschechkin 'B' sample positive
Kashechkin positive for blood doping
Thank you for reading 20 articles this month* Join now for unlimited access
Enjoy your first month for just £1 / $1 / €1
*Read 5 free articles per month without a subscription
Join now for unlimited access
Try first month for just £1 / $1 / €1