KILLEEN SHOWS THE WAY, DIXON MAKES IT A DOUBLE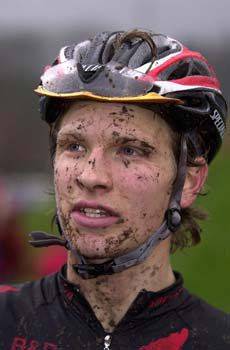 COMMONWEALTH Games cross-country MTB champion Liam Killeen (Specialized) underlined his cyclo-cross credentials with victory over former British cross champion Steve Knight in the latest round of the West Midlands League promoted by Halesowen A and CC at Blackwell, near Bromsgrove, today.
Killeen, 24, from Malvern, moved into the lead after the opening loop and, once on the main circuit, was never headed. Knight, the evergreen MI Racing rider, made his usual slow start but battled back from fifth spot to cross the line only 20 seconds behind Killeen.
Meanwhile, on the South Park course where Killeen has twice won the Macclesfield Supacross in recent seasons, new National Trophy leader Phil Dixon (Trek-SiS) completed a weekend double when he won Macclesfield Wheelers? open race there today.
Dixon, a runaway winner of the Notts and Derby Cyclo-Cross League event at Swanwick on Saturday (see separate report), led from the gun and soloed his way to a three and a half minute victory in the South Park event. Only Lewis Craven, of the Wheelbase team, finished on the same lap.
Edinburgh junior Ross Creber, a member of the London-based Evans Cycles RT, beat senior opposition in a combined race to score an outright victory in today?s Scottish cyclo-cross championship on the Town Park course at Glenrothes, Fife.
Creber, 18, led from the second of 13 laps after his early companion Gareth Montgomerie (Endura-Voodoo) had punctured, letting Craig Hardie (Dunfermline CC) through into second place.
By the finish only Hardie and Montgomerie were on the same lap as Creber after defending champion Dan Whitehead, from Aberdeen, had snapped his chain and retired near half distance.
CYCLO-CROSS
Halesowen A&CC (Blackwell, near Bromsgrove).- Liam Killeen (Specialized) 14 miles 1-05-11; 2, 2, S. Knight (MI Racing) at 20sec; 3, D. Alexander (Ace RT) at 45sec; 4, D. Atkins (Coventry RC); 5, B. Davies (Cheltenham & Co CC); 6, L. Shunburne (Matlock CC). Juniors.- Ben Roach (Rugby Velo). Veterans.- Philip Roach (Rugby Velo). Women.- Ann Robinson (Lichfield City CC).
Macclesfield Wheelers (South Park).- Phil Dixon (Trek-SiS) 14 miles in 59-57; 2 L. Craven (Wheelbase RT) at 3-38; at 1 lap: 3, C. Denning (Sports Coaching).
Scottish ch?ships (Town Park, Glenrothes).- Ross Creber (Evans Cycles RT) 13 miles in 1-04-13; 2, C. Hardie (Dunfermline CC) at 3-19; 3, G. Montgomerie (Endura-Voodoo) at 3-30; at 1 lap: 4, H. Creber (Kinesis UK); 5, P. McInally (East Kilbride RC); 6, I. Nimmo (Stirling Bike Club). Juniors.- Ross Creber. Women.- Ruth McGavigan (XC Racer.com).
ROAD RACING
Ottershaw Series (Chobham, Surrey).- Round three.- Martin Smith (Team Milton Keynes) 80km in 2-03-10; 2, R. Enslin (Agiskoviner.com); 3, S. Golla (High Wycombe CC); 4, J. Edwards (Wildside RT); 5, C. Hollosi (Gemini BC); 6, M. Melville (Fit For RT) all same time. Final overall.- Martin Smith 4 pts; 2, C. Peter (VC Meudon) 15; 3, J. Lomas (Norwood Paragon) 18.
HILL-CLIMB
CC Sudbury (Semer Hill, Hadleigh, Suffolk, 500 yards).-
James Ward (Cambridge CC)48.8sec
S. Grimwood (Ipswich BC)49.5
A. Pettitt (Stowmarket & Dist CC)50.6
K. Barker (PCA-Ciclo Uno)51.3
D. Zagni (Ipswich BC) 53.0
T. Snook (Ipswich BC)53.0
Team.- Ipswich BC (Steve Grimwood, Dan Zagni, Tim Snook) 2-35.5.
Thank you for reading 5 articles this month* Join now for unlimited access
Enjoy your first month for just £1 / $1 / €1
*Read 5 free articles per month without a subscription
Join now for unlimited access
Try first month for just £1 / $1 / €1
Snowdon Sports is a long-established independent sports news agency, which supplies editorial to a range of media outlets - such as Cycling Weekly - as well as sports governing bodies. Snowdon Sports often covers results at Cycling Time Trials events in the UK and has long been a source of information and imagery to Cycling Weekly.