Kirklees railway stations to benefit from improved cycling facilities
Huddersfield, Dewsbury, Batley and Mirfield railway stations will receive £350,000 of funding to improve cycling facilities to encourage more train users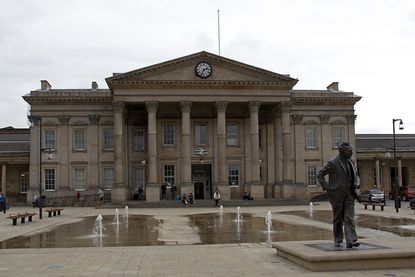 Train stations across Kirklees, Yorkshire, will see £350,000 of cycling improvements as part of the Department for Transport's upgrade scheme.
The government department is spending £16m across the country to encourage more cyclists to take the train, with Huddersfield, Mirfield, Batley and Dewsbury just some of the stations to benefit.
According to the Huddersfield Daily Examiner, platform 1 at Huddersfield station will see a 'cycle park' built, incorporating 54 new bike racks, sheltered storage and a repair workstation costing £91,000.
>>> Birmingham cycling improvements will lead to congestion, warns councillor
Meanwhile, £190,000 plans are afoot to replace the cobbled roads leading up to Mirfield and Batley stations and provide wheeling ramps up to the platforms, and a two-tier cycle rack will be installed in Dewsbury at a cost of £77,400
Tory councillor for Mirfield, Martyn Bolt, told the Examiner that people need to be educated about riding their bikes on the road if they are to fully make the transition to two wheels.
"This is a step in the right direction but the improvements must be linked to an education and awareness campaign," he said.
"It is no good providing these facilities and not telling people and giving them help in how to use them."
>>> Plans outlined for Bath cycling improvements
Cllr Bolt, a Yorkshire regional councillor for cycling charity CTC, added: "It will take more than cycle racks to encourage people out of their cars and onto bikes and trains.
"We have to persuade people of the benefits because every driver that cycles instead would create a large amount of extra road space."
Thank you for reading 20 articles this month* Join now for unlimited access
Enjoy your first month for just £1 / $1 / €1
*Read 5 free articles per month without a subscription
Join now for unlimited access
Try first month for just £1 / $1 / €1