Lachlan Morton breaks Everesting record a week after failed attempt
It was second time Lachy for the Australian pro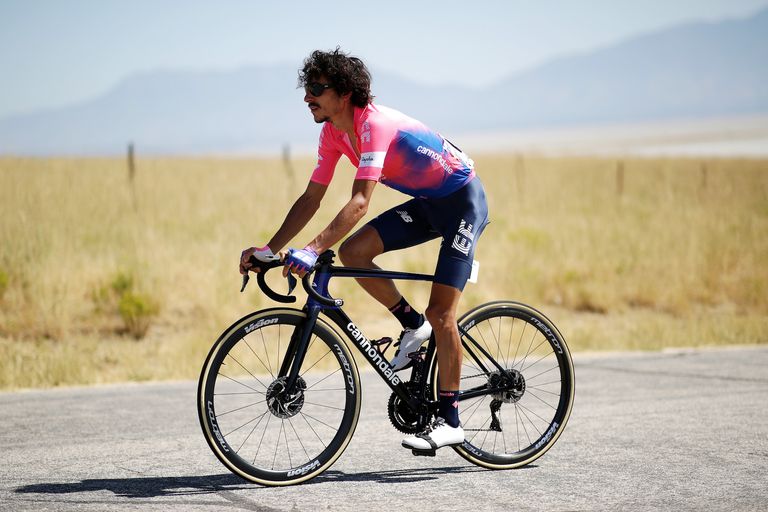 (Image credit: Getty Images)
Lachlan Morton didn't take his Everesting record disqualification lying down, going back out to the Rist Canyon climb in Colorado just a week later and setting a new world record.
Morton ascended 8,840m in a time of seven hours, 29 minutes and 57 seconds, ten minutes faster than US mountain biker Keegan Swenson, and also shaving three minutes off his first attempt.
For this try, the 28-year-old used a slightly shorter Strava segment, completing laps of a 1.69km, 11 per cent gradient section that sits above an altitude of 2,200m.
The EF Pro Cycling rider rode nearly 160km in total, averaging a speed of 20.6km/h and hitting a maximum of 121.7km/h while descending.
According to one Twitter user who has analysed the ride, Morton turned around on the descent 340m earlier than he did during his first attempt, saving more than a minute of ascending per lap but leaving him with less time to recover on each descent.
Everesting has exploded in popularity during lockdown, with Hannah Rhodes beating both the national and world women's record before a 20-year-old Cumbrian knocked the UK record down closer to the nine-hour mark.
Last week, an 11-year-old American completed a virtual Everesting, starting at 6.30am and spending nearly 15 hours in the saddle to reach 8,840m of elevation.
"We never intended for there to be Everesting records. In fact, this whole challenge was always the opposite of racing. That said, like many of the community we feel we are now just an excited bystander, watching this whole crazy story unfold around us," Hells 500 said after verifying Morton's record-breaking ride.
"Lachy's time of 7-29-57 is incredible, however, the thing that will always remain - irrespective of what happens to this particular record - is that when faced with a result that didn't sit right, he just got back out on the bike and did it again."
"Just spoke with the legend," EF Pro Cycling boss Jonathan Vaughters said after his rider's Everesting. "[He] said he did an extra lap 'just to make sure'..."