Lance Armstrong in court to ask government to dismiss $100m lawsuit
Lance Armstrong travelled to a Washington DC court to present his case against a pending $100 million lawsuit for fraud after he was found guilty of doping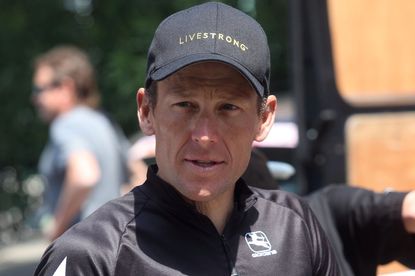 (Image credit: Watson)
Get The Leadout Newsletter
The latest race content, interviews, features, reviews and expert buying guides, direct to your inbox!
Thank you for signing up to The Pick. You will receive a verification email shortly.
There was a problem. Please refresh the page and try again.
Lance Armstrong appeared in US federal court yesterday in Washington DC to ask the government to dismiss the $100 million lawsuit against him for fraud and cheating, or at least decrease the fine drastically.
US District Judge Christopher Cooper gave no indication of when he would decide, but any court case would not take place until early 2017.
The US Justice Department, under the False Claims Act, is suing on the behalf of former team-mate and whistleblower Floyd Landis. Landis showed how taxpayers were cheated via the US Postal Service's sponsorship of Armstrong's team from 1996 to 2004.
USA Today reported on part of Wednesday's two-hour hearing.
"Lance Armstrong created a flood of lies that saturated every invoice that was submitted," Justice Department attorney Robert Chandler told Cooper.
"He lied directly to the Postal Service. He had others lie directly to the Postal Service on his behalf. He made countless public statements on television and to print reporters... false statements perpetuating his lie that he wasn't doping."
Armstrong, who has been busy with his podcast show, kept silent. His attendance was not necessary, but he likely decided to travel to the nation's capital given the importance of the eventual decision.
The case dwarfs the challenges he faced on the road. The now 45-year-old Texan won the Tour de France seven times consecutively from 1999 to 2005, all but the last year sponsored by America's postal service, USPS.
Those titles and more were stripped when the US Anti-Doping Agency (USADA) showed that he doped for most of his career with a mix of testosterone, EPO, human growth hormone and blood transfusions.
Armstrong already paid out in other lawsuits – involving SCA Promotions and the Sunday Times – but the one that his former team-mate began in 2010 remains.
USPS paid Armstrong and the team's management company Tailwind Sports a total of $32.2 million ($32,267,279.85 or £25.8m) over the sponsorship years. Under the False Claims Act, penalties can range up to three-times the amount defrauded – or $96.6 million (£77.6m).
Instead of losing, Armstrong's lead lawyer Elliot R Peters argued that the USPS gained from its cycling exposure.
>>> Lance Armstrong pulls out of Dublin conference due to 'legal concerns'
"Bottom line: USPS got more than it paid for and is not a victim of fraud," Peters said. He showed a 2003 estimate that said the postal service gained $109 million in media exposure and $4 million to $6 million in other benefits.
Armstrong, who many considered a cycling hero, is seen as the icon of sports doping. The Justice Department had not planned on such exposure. Attorney for the Justice Department, David Finkelstein cited experts that said with the negative fallout from the doping allegations, the 2012 case and Armstrong's admission, Postal Service sponsorship has become worthless.
"This was not the brand advertising we were promised," attorney for the Justice Department, David Finkelstein said.
>>> Lance Armstrong: If the court case goes the wrong way then we're out on the street
"This is not the brand advertising we bargained for. This was media we specifically bargained to avoid. Any loss in value can be the basis for damages… It ought to go to jury."
Cooper's pending decision to go to trial or not will not make for a pleasant holiday season.
Armstrong said last month: "We are down to one case – it's a heavy case. If it goes the wrong way for us, then we are on the street. So it's pretty heavy. Let's hope it doesn't go the wrong way."
Thank you for reading 20 articles this month* Join now for unlimited access
Enjoy your first month for just £1 / $1 / €1
*Read 5 free articles per month without a subscription
Join now for unlimited access
Try first month for just £1 / $1 / €1