Learn from the pros: the things they wish they'd known
We garner the wisdom of some of cycling's most experienced racers, coaches, team managers and support staff to discover the things they know now that they wish they'd known at the start of their careers…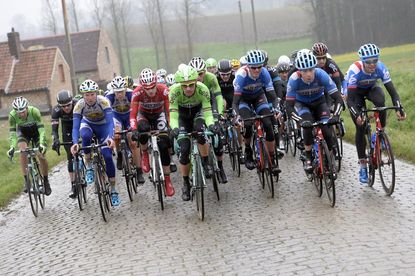 (Image credit: Watson)
Team principal of Team Sky and former performance director of British Cycling
"That people too often don't aim high enough, and put artificial limits on their own success. With hunger, passion and commitment, supported by the right team with the right values, people can achieve incredible things."
Double British national road race and circuit race champion, Olympic silver medallist, and Commonwealth Games gold medallist, 2014 Road World Cup winner
"I wish I had known when I was a teenager not to miss important family events for racing. You don't remember the races and you don't need to take it so seriously so soon. And as things do become more serious, don't try to do everything yourself and don't be afraid to ask for advice and support.
"But above all, don't get too serious too young, and always be honest."
Professional racer for 17 years, yellow jersey wearer, winner of four Grand Tour stages, numerous one-day and stage races, and former World Hour record holder
"I should have had more confidence in myself, realised I was a better rider, and that I didn't need to cover every crazy, early breakaway. That I could go with the moves at the end of a race, and finish with the bigger guys. So, I wouldn't have just raced for breakaways but also for results.
"I had the physical strength; but sometimes it was easier to go for the breakaway because it was less difficult, technically, than sitting in and waiting for the moves to go. You take the pressure off by making the move yourself. I proved through my career that I was good enough to win stage races and perform with the better guys, but it took me a while to find that out, and I think I could have done that earlier.
>>> Jens Voigt's 'Ambassador of Awesome' job description is pretty…awesome
"I'd also say that I would have pushed myself harder to do more core muscle training and stretching — I did next to none of that. I'm lucky that my body's built for cycling; I'm pretty strong — I wouldn't say indestructible — but I think I could have got more results or performance out of myself.
"Bobby Julich was really good at this; I would just sit there reading a book or playing my Gameboy while he was on a sit-ball doing his core exercises. Nobody cared about, or even knew, what core muscles were when I was starting out. But if you don't stretch and work on this, then you definitely put yourself at a disadvantage."
Helen Wyman
Double European and nine-times British national cyclo-cross champion
"When you're moving up the ladder in cycling towards, or even in, professional cycling, make sure you have a plan B. You'll hit hurdles, have let-downs, and sometime hit your head against the wall. But have a defined goal, and always be willing to try to find a new way to get there.
"When I started, women's cycling was a little different. At that point in time, there were very few people you could trust, although I'm pretty sure a vast majority were well meaning and didn't mean to 'flick' you and crush your dreams."
Triple world road race champion, seven-times world cyclo-cross champ, Olympic gold medallist and dominant force in women's cycling
"I like the fact that cycling is a constant learning process — that's what makes it attractive to me. It makes it easy to see everything open-minded when you have to discover a lot yourself. What I would say, though, is that you need to be careful with your body, and treat it very well. And most all have fun in what you do."
Matt Stephens
Former professional racer, WorldTour rider and now cycling TV presenter. A curly-haired legend of the British racing scene
"Although I still think 'training on feel' has many merits, I do often wish that I could have more fully understood my physiology and capability as a rider as, looking back, I don't think I ever reached my full potential. The amount of information and data now available to riders allows them, if they have the accompanying coaching support, desire and drive, to maximise their potential through structured training, something that I never really did. I mean I was serious and trained hard, yet I sometimes wish I'd had access then to what is available now. No regrets though, I loved my time racing.
"I also wish I'd known how brutally hard the Gavia was in the snow. Pictures tell only half the story."
Daniel Lloyd
Presenter for Global Cycling Network, coach and ex-professional racer
"I wish that I'd known everything that I do now about using a power meter — not that I could have afforded a power meter when I was 15 years old, though! It's a strange one, because it's so easy for me to go out and do five or six hours of reasonably hard, structured training in a week, but there's no way of knowing what effect all those years of 25 weeks at a pretty slow pace had. Base training might be one of those things that you can do for a few years, but once you've got that into your adaptation at that low level… But I made so much of an improvement in the years I did use power for training, that I'd be interested to know how much better it could have been if I'd started using it earlier in my career."
Dean Downing
Former national criterium champion and winner of countless one-day and stage races. A national institution, now coaching riders of all levels
"I started getting coached when I was 18, but only used heart-rate monitors and power towards the end of my career — in fact, I used power as a racer only for my final season. If I could have trained with it for the 10 years before that, things might have been different. I've learned a lot in the last year which I'm now relating to my coaching clients, and it makes so much sense to use both measurements together.
"My ramp tests were always pretty average, but I'd just train hard in the hills relying solely on heart-rate. I just knew how and when to use my legs, but there wasn't anything scientific about it."
Matt Rabin
Physical therapist and chiropractor with Cannondale-Garmin Pro Cycling, now in his eighth season with the WorldTour team
"I wish I knew how important the Classics were to cycling in general, in terms of what it means for riders to prepare for them, to get their bodies ready for them, the physical exertion of riding over cobblestones; the sheer nature and volume of what they have to do.
"I took it seriously when I started with the team, don't get me wrong, but Paris-Roubaix is like the Grand National on bikes. It's a hard, gruelling, bum-numbing, hand-shattering, teeth-clattering race. Training and preparing for that is different than for most other races. So you have to understand that from a chiropractic or physical therapist's perspective, the needs are so much more.
"Knowing how hard and how gruelling these one-day races are, you have to prepare much harder for them. The Tour is obviously a hard, hard race, but you've got 21 days and there's a bigger buffer for margins of error. I just wish I'd given the one-day Classics greater credence then. I used to turn up to Roubaix or the Tour of Flanders and sit on the bus for four hours and watch the Formula One, when there were thousands of people on the roadside, cheering them on. Those races are just an amazing experience."
Dan Fleeman
Former British national road race, hill-climb and mountain bike champion, ex-WorldTour pro with Cervélo Test Team, and founding director of Dig Deep Coaching (digdeepcoaching.com)
"The biggest thing for me was realising that it's the quality rather than the quantity of training that counts most. As a beginner it's easy to get hooked up over-stressing the importance of going out and riding 4-5 hours, when the reality is you often win or lose a race because of something that takes place over a period of several minutes.
"Lots of people go out and ride for four hours but get dropped in races long before the four-hour mark, as they cannot make the intensive efforts required within the races."
Words by Marc Abbott
This article was originally printed in the March 12, 2015 issue of Cycling Weekly
Thank you for reading 20 articles this month* Join now for unlimited access
Enjoy your first month for just £1 / $1 / €1
*Read 5 free articles per month without a subscription
Join now for unlimited access
Try first month for just £1 / $1 / €1