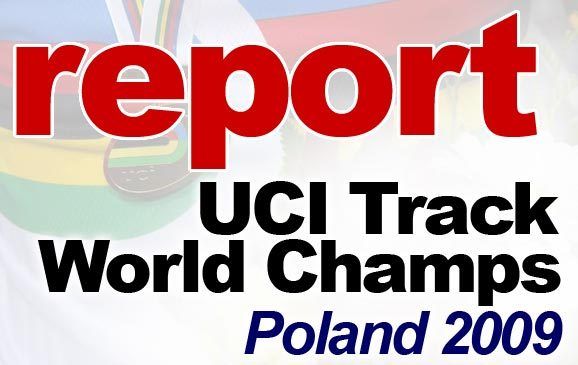 The Hub - Home for all CW's track worlds coverage
Thursday's live coverage>>>
Germany's Max Levy won the Keirin final from Francois Pervis and Teun Mulder, with the British pair Matt Crampton and Ross Edgar missing out on the medals.
The three British competitors initially made heavy weather of it. Jason Kenny, Crampton and Edgar all finished outside the top two in their first round races, and had to rely on the repechage.
With Crampton and Kenny drawn in the same repechage heat, and only one place in the second round up for grabs, one British rider was sure to be eliminated.
Crampton got through with a powerful surge, pipping Kenny on the line. Edgar also won his heat.
Crampton was again impressive in the second round, losing out narrowly to Pervis. Edgar also got through.
In the final, Edgar looked like he had the legs, but mistimed his move and although both British riders were well in contention on the last lap, they faded and were overtaken by Levy, Pervis and Mulder.
Round one
First and second go through to next round
HEAT 1
1. Carsten Bergemann (Ger)
2. Teun Mulder (Ned)
3. Jason Kenny (GBr)
4. Daniel Ellis (Aus)
5. Adam Ptacnik (Cze)
6. Andri Vynokurov (Ukr)
7. Kevin Sireau (Fra)
HEAT 2
1. Maximillian Levi (Ger)
2. Shane Perkins (Aus)
3. Kamil Kuczynski (Pol)
4. Christos Volikakis (Gre)
5. Josiah Ng (Mas)
6. Leonardo Romero (Col)
7. Hodie Uria (Spa)
HEAT 3
1. Sergey Borisov (Rus)
2. Azizulhasni Awang (Mas)
3. Christopher Sellier (Tri)
4. Jose Escuredo (Spa)
5. Matthew Crampton (GBr)
6. Simon Van Velthooven (NZl)
7. Kazunari Watanabe (Jpn)
HEAT 4
1. Francios Pervis (Fra)
2. Jason Niblett (Aus)
3. Travis Smith (Can)
4. Yondi Schmidt (Ned)
5. Ross Edgar (Gbr)
6. Tomokazu Sato (Jpn)
7. Barry Forde (Bar)
First round repechage
Winner goes through to next round
HEAT 1
1. Matthew Crampton (GBr)
2. Jason Kenny (GBr)
3. Yondi Schmidt (Ned)
4. Leonardo Romero (Col)
5. Kevin Sireau (Fra)
HEAT 2
1. Josiah Ng (Mas)
2. Jose Escuredo (Spa)
3. Kamil Kuczynski (Pol)
4. Andrii Vynokurov (Ukr)
5. Barry Forde (Bar) REL
HEAT 3
1. Christos Volikakis (Gre)
2. Adam Ptacnik (Cze)
3. Christopher Sellier (Tri)
4. Tomokazu Sato (Jpn)
5. Kazunari Watanabe (Jpn)
HEAT 4
1. Ross Edgar (Gbr)
2. Hodie Uria (Spa)
3. Simon Van Velthooven (NZl)
4. Daniel Ellis (Aus)
5. Travis Smith (Can)
Second round
HEAT 1
1. Francois Pervis (Fra)
2. Matt Crampton (GB)
3. Ross Edgar (GB)
4. Azizulhasni Awang (Mas)
5. Shane Perkins (Aus)
6. Carsten Bergemann (Ger)
HEAT TWO
1. Max Levy (Ger)
2. Sergey Borisov (Rus)
3. Teun Mulder (Ned)
4. Josiah Ng (Mas)
5. Christos Volikakis (Gre)
6. Jason Niblett (Aus)
7-12 FINAL
7. Shane Perkins (Aus)
8. Carsten Bergemann (Ger)
9. Christos Volikakis (Gre)
10. Josiah Ng (Mas)
11. Azizulhasni Awang (Mas)
12. Jason Niblett (Aus)
1-6 FINAL
1. Max Levy (Ger)
2. Francois Pervis (Fra)
3. Teun Mulder (Ned)
4. Ross Edgar (GB)
5. Matt Crampton (GB)
6. Sergey Borisov (Rus)