Lizzie Deignan to UCI: 'Monitor more women's whereabouts'
Former world champion Lizzie Deignan calls for comprehensive scrutiny to combat doping in women's pro cycling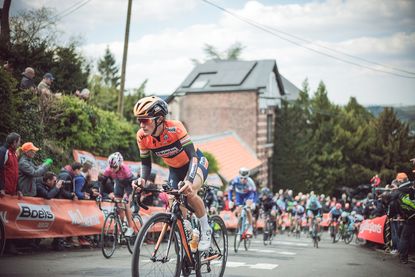 (Image credit: ASO)
Lizzie Deignan has called on the UCI to put more female pro riders on the whereabouts monitoring system that she very nearly fell foul of last year, to improve its efforts to combat doping in the sport.
The UCI mandates that all "male professional road riders" use the Anti Doping Administrative Management System (ADAMS), which requires riders to input their location for one hour every day for out of competition testing; if they are not there and testers arrive it gets marked as a missed test and they face a ban if they miss three in 18 months.
However, the UCI mandates that only "top-ranked" female riders have to be subject to the same testing.
Deignan, who faced a ban last year after she was suspended for racking up three whereabouts failures, believes the system needs improving by putting more athletes on the programme.
"More athletes need to be on it and everybody needs the same education," she told Cycling Weekly.
In July last year, just before the Olympic Games, Deignan was provisionally suspended for missing three anti-doping spot checks before successfully appealing one strike at sport's highest court in Switzerland and being cleared to continue racing.
"The probability of finding myself in a bad situation is higher than another athlete in terms of making a mistake on my whereabouts, but I'm happy to have that responsibility, it just needs to be spread equally," she said.
>>> Boels-Dolmans team come out in support of Lizzie Armitstead over missed tests case
Deignan, who finished second at Amstel Gold on Sunday, told CW it was "heartbreaking" to see the word doping attached to her name last summer after news of her missed tests and the appeal were reported by the press.
Deignan recounts the experience in her new autobiography, Steadfast.
"At the time it was very intense and very scary and heartbreaking to be an athlete that has never done anything wrong and see a headline with that word attached to your name," Deignan told CW, as she reflects back on her 2016 season.
"It was a heartbreaking and horrible experience. With distance and time I realised I have no control over people's opinions and the best thing I can do is to continue to love riding my bike
and racing and my results will speak for themselves."
The UCI did not respond to request for comment.
Lizzie Deignan on:
British Cycling allegations of sexism
"It's all news to me. 2011 was the last time I was in the track programme in Manchester. Since then I've worn a jersey once a year at the Worlds and been very removed from it.
"I focus on my own experience and what's happened to me. There were definitely places in previous years where things could have been run better but they are improving and throughout my career it's only got better and better.
"But from a specific British Cycling point of view I just couldn't comment over the last few years."
Not wanting to repeat victories
"It is quite unusual. I think I'm just very personal in my goals and my dreams; it's all about my decisions.
"The more I love my decisions the less I need other people to love them as well. Often I think people go wrong by trying to chase a dream that's someone else's.
"I've no interest in chasing anyone else's dream; it's all about what I want to do."
Retirement
"I think I'm just sort of taking it year-by-year really.
"As I'm getting older and more experienced, closer to when that retirement moment does come, I find I'm better off just enjoying the moments and enjoying all the success one step at a time, one season at a time."
>>> Yorkshire named as host of 2019 UCI Road World Championships
Yorkshire 2019 World Championships
"It would be difficult for it not to be on my mind. If you watched the Tour de France, the Tour de Yorkshire and saw the success of those events — it's just going to be massive.
"It will be such a successful World Championships, so to not be a part of that would be difficult."
Thank you for reading 10 articles this month* Join now for unlimited access
Enjoy your first month for just £1 / $1 / €1
*Read 5 free articles per month without a subscription
Join now for unlimited access
Try first month for just £1 / $1 / €1