Boels-Dolmans team come out in support of Lizzie Armitstead over missed tests case
The world champions team say they 'trust completely there was no intentional wrongdoing' on her part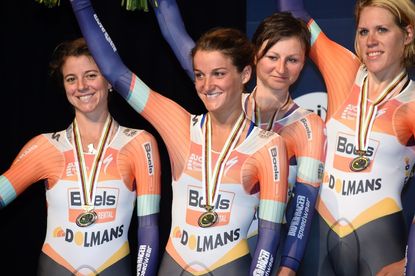 (Image credit: Watson)
Lizzie Armitstead's professional team Boels-Dolmans have come out in support of the world champion after it was revealed she won a case against UK Anti-Doping (UKAD) at the Court of Arbitration for Sport (CAS) following three 'Whereabouts Failures'.
The Briton now heads to the Rio Olympic Games in aim of winning a gold medal in the road race on Sunday, having been withdrawn by her team from the Giro Rosa race in July and missing La Course due to a provisional suspension by UKAD.
But after being cleared by CAS, Armitstead is now free to compete again and her team have come out in support of their rider following a personal statement she made earlier on Wednesday. They say that they fully trust Armitstead and that no wrongdoing has intentionally taken place.
"Boels-Dolmans Cycling Team is relieved with the outcome of the court case brought by Lizzie Armitstead to the Court of Arbitration for Sport (CAS) regarding her missed out of competition tests," the statement read.
"The Dutch-registered squad fully supports Armitstead's position and trusts completely that there was no intentional wrongdoing on Armitstead's part.
Because of a pending court case, we did not release information about Armitstead's suspension. UCI regulations do not require a team to do this and we strongly believed it was in the best interest of both Armitstead and the team to let this matter be decided by the CAS first."
Armitstead missed three out-of-competition tests between August 2015 and June 2016, which warrants a band under anti-doping rules, but the 27-year-old was cleared of the first instance in August.
Her team added in the statement that they were not required to reveal any details about Armitstead's suspension or missed tests, with the information only coming to light after a leak to the Daily Mail on Monday.
"Given Armitstead has two missed tests (with the first overturned by CAS) neither we, nor she, were required to share details about any missed tests, the provisional suspension, or the court case publicly," the team added.
"Boels-Dolmans Cycling Team looks forward to supporting Armitstead and its other eight Olympic athletes in the upcoming road race in Rio."
Thank you for reading 5 articles this month* Join now for unlimited access
Enjoy your first month for just £1 / $1 / €1
*Read 5 free articles per month without a subscription
Join now for unlimited access
Try first month for just £1 / $1 / €1