Local community rallies around charity to replace its stolen bikes
Walsall Arboretum Community Cycle Club had all 11 of its bikes stolen in November, leaving many of its members without a bike to ride. Now the club is back up and running thanks to donations from local people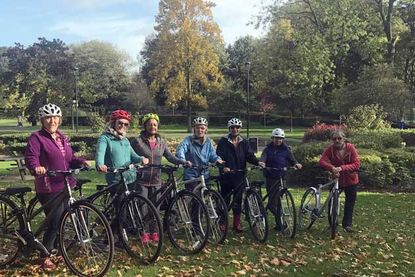 (Image credit: Cycling UK)
A cycling club in Walsall that helps adults learn to ride a bike and improve their cycling confidence is back up and running after having all of its 11 bikes stolen in November.
After appeals for people to donate bikes were met with an enthusiastic response from the local community, the Walsall Arboretum Community Cycle Club in the West Midlands is now open for business once again.
The stolen bikes were taken from a locked store in Walsall Arboretum, after they had only just been purchased thanks to £3000 of funding from Sport England and Walsall Council.
>>> Charity cycling group has all 11 bicycles stolen in 'callous theft'
The Cycling UK-affliated club are used used free of charge by local residents to "rediscover the wonderful health and social benefits of regular cycling".
"It's been incredibly moving to see how many wonderful people came forward to help the group in our hour of need and give us their bikes," said Lesley Easter, Cycling UK's Cycling Development Officer for the West Midlands.
"Thanks to their donations, we've been able to resume our activities very quickly and keep our participants cycling, including Joan, the eldest at 85 years old."
http://www.youtube.com/watch?v=5Gd0He4cDNg
It wasn't just local people who helped replace the bikes, but local businesses too.
Sharon Sewell took her unused bike to her local bike shop after seeing news of the theft on television. The shop fixed it for free before it was passed on to the charity.
"I'd had a mountain bike in the shed for a few years that I hadn't used, so I tracked the group down on Facebook," said Sewell.
>>> Cycle of Good: Turning old bike inner tubes into new products
"The staff at my local bike shop Nova Cycles were fantastic; they had seen the story too and serviced the bike and replaced the gears for free before it was donated."
Walsall Arboretum Community Cycle Club member Kishori Agrawal underlined how important the club is, and why it is so great that they now have bikes to ride again.
"I'm staying motivated and keeping my age-related health problems at bay and most of all leading an independent life and feeling happy. My dream is to go cycling with my children and grandchildren by canal for miles."
Thank you for reading 20 articles this month* Join now for unlimited access
Enjoy your first month for just £1 / $1 / €1
*Read 5 free articles per month without a subscription
Join now for unlimited access
Try first month for just £1 / $1 / €1