Cycle of Good: Turning old bike inner tubes into new products
Your old inner tubes are wanted to upcycle into a range of new products in Malawi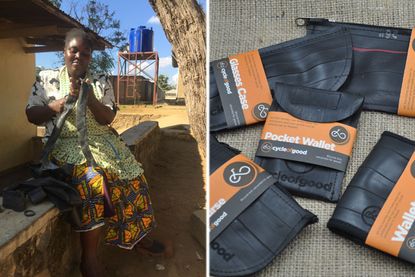 Cycle of Good is seeking old bicycle inner tubes for its Malawi craftspeople to turn into a range of new products, including wallets, phone cases and purses.
The British-based charity enterprise sends the old inner tubes to Malawi, where they are carefully cut up and cleaned, and turned into a something new.
Many cyclists now do not mend their punctured inner tubes – or only repair them once or twice before discarding them. Cycle of Good seeks to give them a new lease of life rather than them being sent to landfill.
>>> Tech of the week: top kit reviewed, shoes lost and found and bad Karma
"The tubes will be sent to Malawi, one of the poorest countries in the world, where the we have several established projects creating education and employment," said Cycle of Good manager George Furnival.
"Our trained tailors wash and sew these tubes in our newly set up workshop in Chilomoni township, and create new wallets, phone cases and more.
"Everything is shipped back to the UK to sell internationally and every single penny raised goes straight back into the project to fund further childcare and non-profit development in Malawi."
Furnival says that creating jobs in a sustainable business is the best way out of poverty – as well as finding a very good use for old bicycle tubes.
"Instead of letting tubes sit for eternity in a landfill site, we re-purpose them into something useful, provide an income for a tailor who is valued and earns above the living wage in Malawi and invests in future development work, that's why it's called the Cycle of Good!"
http://www.youtube.com/watch?v=5gziABZj6X8
Cycle of Good is appealing for old tubes from all cyclists, cycling clubs and bike shops.
They can be sent to: Krizevac Project, Atlas Works, Paragon Road, Longton, Stoke-on-Trent ST3 1NR.
The finished products are available to buy via Cycle of Good, with items priced between £7.50 and £14.50.
Previously, the organisation has recycled old Royal Mail postal bikes to turn into 'elephant bikes'.
Thank you for reading 5 articles this month* Join now for unlimited access
Enjoy your first month for just £1 / $1 / €1
*Read 5 free articles per month without a subscription
Join now for unlimited access
Try first month for just £1 / $1 / €1