London motorists caught driving in segregated cycle lane, plus more cycling videos of the week
The new segregated cycle superhighways are taking shape, but some road users seem unaware of who they're for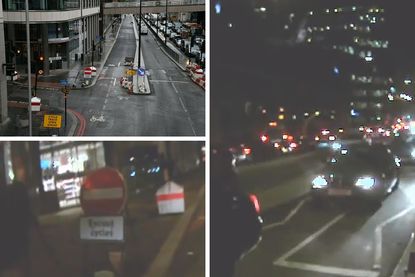 In this video from active headcam cyclist sw19cam we find some interested people trying out the new segregated cycle superhighway. In their cars.
It's unclear whether they were misled by poor signage, unaware that it was a bike lane or simply decided all road space should be for cars.
However, the cycle lane is clearly signed.
New British land speed bicycle record
https://www.youtube.com/watch?v=gsmpDudEUo0&feature=youtu.be
This video charts of the journey of the University of Liverpool Velocipede Team as they set out to beat set new British and world records for human powered vehicles.
The team set about finding riders to power the bike and engineered the most speed efficient machine possible. Some Canadian rivals rained on their parade during the process, but that didn't stop setting a new British record three times.
Behind the scenes with Tinkoff in Australia
https://www.youtube.com/watch?v=0aYkxNv4TOA
The Tour Down Under is underway and marks the start of the WorldTour calendar. This footage gives an in-the-car behind-the-scenes view with WorldTour team Tinkoff.
Mathieu van der Poel forgets which discipline he's riding
https://www.youtube.com/watch?v=LtBrxo8m0xo
Check out that tailwhip
Brumotti rides San Luis
https://www.youtube.com/watch?v=0ZNNvCu6YlQ
What seemingly started as a bit of a novelty now looks to be a permanent thing for Brumotti as he regularly shows his trials skills atop a road bike.
Here's the Italian having a look around San Luis before no doubt heading to the finish line to cheer on his friends in the Tinkoff team.
Highlights from the Women's 'Cross World Cup
https://www.youtube.com/watch?v=TY1QQn9izrs
Footage from the sixth round of the World Cup, this time from Lignieres-en-Berry, France. Mud, sand and tarmac feature on a varied parcours. A Belgian 1-2, no surprise there.
Thank you for reading 10 articles this month* Join now for unlimited access
Enjoy your first month for just £1 / $1 / €1
*Read 5 free articles per month without a subscription
Join now for unlimited access
Try first month for just £1 / $1 / €1
Jack Elton-Walters hails from the Isle of Wight, and would be quick to tell anyone that it's his favourite place to ride. He has covered a varied range of topics for Cycling Weekly, producing articles focusing on tech, professional racing and cycling culture. He moved on to work for Cyclist Magazine in 2017 where he stayed for four years until going freelance. He now returns to Cycling Weekly from time-to-time to cover racing, review cycling gear and write longer features for print and online. He is not responsible for misspelled titles on box outs, and he lost the argument about using UK spellings