London's Velopark: A legacy for the loaded?
Cycling clubs in East London say they are being shut out of the Olympic VeloPark while commercial organisations prepare to use the legacy facilities in East London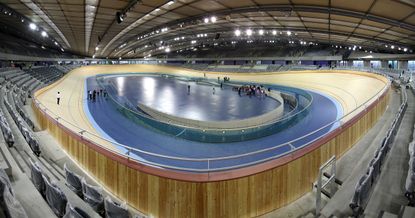 (Image credit: Cycling Weekly / Chris Catchpole)
With just over one month to go until the official opening of the Lee Valley VeloPark, many of the clubs that used the old Eastway Cycle Circuit, which was demolished in 2006 to make way for the Olympic Park, feel betrayed to find that the new home they believed they had been promised will fail to materialise.
"Its like we'd been campaigning to get a theatre built so your local amateur dramatics and actors could get on the stage, but the people who were supposed to go on the stage don't get a look in," said Michael Humphreys from the Eastway Users Group.
Clubs local to the park have reported being unable to book sessions and finding it difficult to communicate with the organisation that runs the facility, Lee Valley Regional Park Authority (LVRPA).
Having fought hard to secure the facilities following the Olympics Games, they now fear that they will lose out as demand soars from corporate customers hoping to use the velodrome, cycle circuit, mountain bike course and BMX track.
"It does seem to me that the demand will be from those who can foot the biggest bill, and it doesn't seem like there has been any specific effort to work with clubs from the community," said Bruce Mackie from Lee Valley Youth CC.
"We're attempting to organise sessions but so far it's not really getting us far. They seem to be more interested in selling the experience vouchers than dealing with the local community groups."
"I really cannot wait to sit down with LVRPA and sort this out with them and start using this facility as it was meant to," said William McFarland at East London Velo CC. "I simply don't know who they are, or if they want to talk to us."
On top of uncertainty concerning prices, sessions and communication, clubs have also been told that, unlike most cycling facilities across the country, the VeloPark will not be home to any one club in particular.
A spokesperson from the park authority told Cycling Weekly that this was to ensure fair access to all clubs. It denied a lack of communication with voluntary organisations and stated that the authority was working hard to ensure accessibility.
"As far as we are aware, all clubs who have been in contact with us have been kept up to date regarding the build and our programming," a spokesperson said.
"Lee Valley VeloPark is finalising the arrangements with various clubs and organisations, to ensure that a fair offering is made to all. Of course we apologise if this seems to have taken a while, but serious consideration, work and time is needed to create a world class venue, with fairness for all interested parties.
"We believe we have catered for local clubs within the context of a national facility well."
However commercial organisation looking to run sessions on the facilities at the VeloPark have already been able to confirm schedules and sessions at the new park.
VeloEvents, which won the tender to run 'corporate cycling challenges' at the VeloPark, estimates that it will be able to use the velodrome exclusively for four full days a month. Its sessions accommodate up to 50 people on behalf of a company, and charge a £20 per head levy which they claim goes to fund track sessions for local school children.
It confirmed that its first sessions in the velodrome, already fully booked, would take place on March 27 and 28.
Cavendish Group, another corporate hospitality company, has obtained on average two full days a month at the velodrome as well as the ability to arrange exclusive use of the other facilities. On its website it has listed available dates to use the velodrome through to October.
LVRPA insisted they will ensure that the facility will remain accessible to all, however voluntary clubs remain unsure whether they will be still be able to offer accessible grass-roots cycling at an affordable price.
"We're attempting to promote the sport to the youth and the idea is that it's promoted to all the youth, not just those whose parents have decent middle class incomes," said Mackie.
"Our collective existing activities rely heavily on volunteers, and as non-profit organisations we can run at low costs to the users," added McFarland. "With no ability to discuss this with LVRPA, we are left to assume that the current model cannot continue."
Taster sessions on the London 2012 Velodrome and new closed-road circuit are now available for purchase online
Olympic and Paralympic champions returned to scene of their greatest triumph for this morning's announcement
First international event in London 2012's Velodrome will be two-day Revolution Series finale
Thank you for reading 20 articles this month* Join now for unlimited access
Enjoy your first month for just £1 / $1 / €1
*Read 5 free articles per month without a subscription
Join now for unlimited access
Try first month for just £1 / $1 / €1