Loophole lawyer says motorists should 'fight back' against 'goading' cyclists
Nick Freeman, famous for getting the likes of David Beckham off speeding offences, says cyclists are goading drivers into reacting badly and posting it on YouTube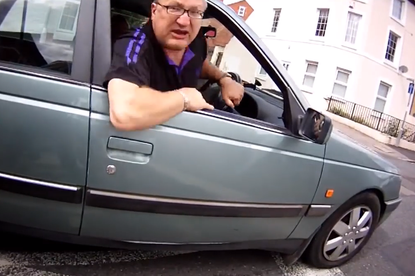 A lawyer famous for getting celebrities off driving charges has called on motorists to stand up against cyclists who goad them into losing their temper before posting the videos on YouTube.
Nick Freeman's words come after a video of a motorist in Reading chasing a cyclist before falling to the ground went viral on the internet.
Mr Freeman says that he is not against cyclists using headcams, but is fighting against riders becoming vigilantes or riding provocatively to goad motorists into heated responses.
"The time has come for motorists to fight back and film cyclists breaking the law or riding irresponsibly," he told Motoring.co.uk, adding: "How often do we see cyclists at night without any lights, jumping red lights, cycling the wrong way down one way streets, undertaking, cycling on the pavement or simply cycling down the middle of the road etc? Plenty!
"And these illegal actions challenge road safety by becoming a danger to themselves, to other road users and to pedestrians."
"I'm not against cyclists and motorcyclists using headcams, far from it. But what I am against is provocative and dangerous cycling, which is designed to goad motorists, knowing full well the responses will be captured on video and then uploaded on to the internet.
"Motorists can be easily identified by their registration plates, but cyclists are relatively anonymous."
https://www.youtube.com/watch?v=2PFRdEUN240
Warning: this video contains swearing from the start and throughout
Mr Freeman is famous for finding technicalities in motoring law to get his clients, such as footballer David Beckham and comedian Jimmy Carr, off driving offences.
In response to Mr Freeman's comments, Carlton Reid of BikeBiz.com pointed out that the lawyer's understanding of his own specialist subject was a little off the mark.
"I'm surprised that a lawyer specialising in transport could be so ignorant about the various Road Traffic acts and the Highway Code," he told the website. "It is not illegal for cyclists to undertake and to ride in the middle of the road."
He added: "Mr. Freeman's point about registration plates assumes that cyclists would be somehow more law abiding if they had them fitted. If registration plates were so effective Mr. Freeman would be out of a job because motorists wouldn't dare to break the law for fear of being identified."
Thank you for reading 20 articles this month* Join now for unlimited access
Enjoy your first month for just £1 / $1 / €1
*Read 5 free articles per month without a subscription
Join now for unlimited access
Try first month for just £1 / $1 / €1