MacIntyre's family seek £500,000 damages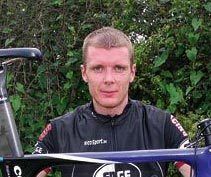 The widow and family of Scottish cyclist Jason MacIntyre, who died after colliding with a van in January 2008, are suing the driver involved in the incident.
Caroline MacIntyre is taking action against van driver Robert McTaggart and his employer, Highland Council, according to BBC Scotland. Damages of £500,000 are being sought as the family lost all future support and income from MacIntyre. The case will now be decided by a civil jury.
McTaggart was fined £500 and banned from driving for six months in August after pleading guilty to careless driving at Fort William Sheriff Court.
The vehicle collided with MacIntyre whilst the prolific time trial champion was out training around his home near Fort William, Scotland. MacIntyre was rushed by air to a hospital in Inverness, but later died of his injuries. He left his wife, and two daughters.
Related links
MacIntyre dies after accident
MacIntyre fund reaches £30,000
Thank you for reading 20 articles this month* Join now for unlimited access
Enjoy your first month for just £1 / $1 / €1
*Read 5 free articles per month without a subscription
Join now for unlimited access
Try first month for just £1 / $1 / €1