MARK CAVENDISH INTERVEW: MARK TOUCHES DOWN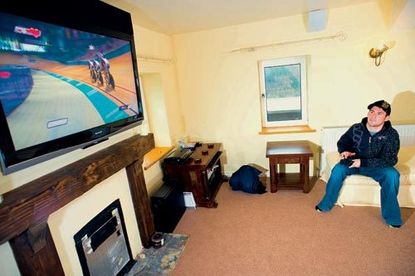 A third of all accidents requiring hospital treatment happen in the home, as Mark Cavendish is only too aware. Cavendish is nursing an injury when Cycling Weekly visits him at home on the Isle of Man.
A tear in the gastrocnemius muscle in his left calf is troubling him, as we discover when he is forced to abandon his training ride and hitch a ride in our car.
And the cause of this niggling pain in Cavendish?s leg? A crash in training, perhaps? Overdoing it on the new roller skis he has been using in recent weeks? Neither of those. It turns out to be a Wii Fit injury. An awkward landing from a particularly tricky manoeuvre while snowboarding in the sitting room resulted in the tear that has plagued the Manxman for the last six weeks.
Tempting as it is to snigger at such a comical mishap, it is no laughing matter for the 23 year old as he steps up training towards a new season, following what can only be described as a phenomenal year.
Island life
Four Tour de France stages, two in the Giro d?Italia and 11 other road wins, plus the World Madison Championship with Bradley Wiggins, were just rewards for the Manxman and the work put in since deciding on a career as a pro bike rider at the tender age of 14.
The material rewards for that work are apparent: the Lexus in the driveway, and the 300-year-old barn conversion that Cavendish shares with fiancée Melissa and dog Amber in the former lead mining town of Laxey.
No flashy bachelor pad in Monaco for Cavendish. He is earning serious money now with Team Columbia and could, no doubt, afford an ostentatious villa somewhere hot and sunny, but he stays firmly grounded in the place of his birth.
?I love it here: it has given me a lot. I am not a nationalist. Some islanders would say they were Manx rather than English, but I would always say I am an Englishman from the Isle of Man,? he explains.
The island?s capital, Douglas, like many British seaside towns, has seen more prosperous times, but remains trim and tidy. The annual June invasion of motorcyclists for the TT races which temporarily more than doubles the population provides 80 per cent of the island?s annual income according to Cavendish. That explains the islanders? patience with the hair-raising TT racing. Cavendish says he stays off the roads during the TT period, but without it, ?the island would struggle. It is now cheaper to fly to Nice than it is to come here.?
The island is closely linked to Liverpool, the ferry connecting the two. That explains what, to the untutored ear, sounds like the scouse accent of Cavendish and his fellow Manxmen. Go back a generation or two, he says, and the Liverpool influence is less pronounced. Many youngsters leave the island to live on the mainland, while families and retirees come the
other way.
?I think 70 per cent of the islanders weren?t born here,? says Cav. But, having seen what the world has to offer on his travels as a pro cyclist, Cavendish is content with his house on the hillside in Laxey.
Hard school
We step into the garden for photographs and the biting wind cuts to the core, but Cavendish seems oblivious to it as we shiver and look for shelter. A perfectly normal winter?s day on the Isle of Man, apparently.
The notoriously hard terrain and seemingly constant headwind, no matter which direction you ride, give Cavendish and fellow islanders Jonny Bellis and the Kennaugh brothers, Peter and Tim, the perfect training ground. It?s this, they maintain, which gets them fitter quicker. The lads get together for social evenings at Cavendish?s house, playing on the Playstation ? though hopefully not the Wii Fit!
We scuttle inside in search of warmth. The handsome sculpture for the winner of Scheldeprijs Vlaanderen ? a source of great pride for Cavendish as the Belgian race win kick-started his winning streak on the road back in April ? sits on a shelf alongside the other trophies, awaiting a new cabinet.
It will need to be a big one. Cavendish poses for the photographer, while playing the team pursuit game on his Playstation, and admits that girlfriend Melissa is better at it than him. It?s something of an admission for a man who hates losing. The padded folding table in the corner indicates another of Melissa?s talents. She is studying massage at the local college and is already ?better than some of the professional ?swannys? I?ve had?.
Talking about the early years and becoming a cyclist, Cavendish reveals that pestering his parents for a decent bike paid off and led to his taste for winning.
?Since I was three, I always had a BMX or whatever, like most kids do. I loved to be on the bike, so it was a natural progression to start racing,? he says. ?The first year racing, when I was 10 or 11, I was on my BMX and coming last. It wasn?t fair. If I had a bike like the others then I could compete. I got a mountain bike for my birthday, and the day after that I went from being last to first.?
It turns out he is not the only Cavendish on the island with a good turn of speed.
?I have got a brother, Andy, who lives over here. He?s a joiner. He started racing at the same time as me. To be honest, he is more of a natural talent than me. He didn?t have to train or anything, and he?d win races. But I loved it. Not that I worked harder, I was just on my bike a lot more, so got better. I think, to this day, he would have been better than me if he had worked hard. But it was tough for him to follow when his older brother was doing a lot.?
Does Andy regret not following in big brother?s footsteps?
?Not at all. He is really proud of me.?
Their parent?s divorce saw the boys move from Douglas to nearby Laxey with mother Adele. It was a testing time for all.
?They tried really hard to make it between them, not us. I think it was tougher for Andy. At the time I didn?t think much of it, but now I can see it had an effect on me. It sounds a strange thing to say but, in a way, it had a positive effect.?
Both Adele and father David were active in keeping Mark busy.
?We were always encouraged to do stuff as kids. I played for Laxey football team and did athletics. I also did ballroom dancing until I was 14, and went to the British Championships.?
Now that ballroom dancing is peak-time viewing, did he fancy his chances on Strictly Come Dancing?
?Oh yeah! I wouldn?t be allowed on it, though, because I have danced before. It is good to watch ? I know what is going on ? but in a way it frustrates me. I can?t understand why people can?t do some things. I don?t know if I take it for granted, but it is not that hard to get the basic steps.?
Dancing took a back seat as the 14 year old set about his carefully structured plan to
become a pro bike rider.
?I knew I was good at 14, so I planned to leave school at 16 and earn money. There was no Academy then, like there is now. You had to go away and do it yourself. You don?t get a pro
contract from being a good junior; you get it from being a good amateur. So, I planned to work in a bank for two and a half years and then move away when I was 18.?
Working at Barclays Bank left little time for training but provided the savings to enable Cavendish to make his move to the continent.
However, the start of British Cycling?s junior Academy offered a different route to a pro contract. ?Most of the people [at British Cycling] didn?t want me on that, but a couple did. Rod [Ellingworth] had seen me racing, and he said, ?You have got to give him a chance.? And they did, and it went from there really.?
Rigged against him
Cavendish doesn?t hold back in criticising the rigid selection criteria applied by BC selectors at the time.
?They weren?t bike riders; they were scientists. I couldn?t qualify when I was 16 because selection then was based totally on numbers, rigs and indoor trainers.
?A static machine is not the same as an ordinary bike. It is to do with how you pedal. If you have got long legs, they act like levers, whereas with short legs, they are like pistons. Even when I was national champion, when I was 17, I couldn?t qualify for the Talent Team.?
The modern Under-23 Academy may be based in sunny Tuscany, but the early junior set-up was in rather less salubrious surroundings on the outskirts of Manchester.
?We were in Fallowfield, about 300 metres from the old track,? he recalls. ?It was in-between student accommodation and corporation housing and was a pretty rough area. The house got burgled. We were there for a year. Then we moved to Stockport, and I was there for six months before Shane [Sutton] kicked me out of the house. Luckily, Craig MacLean said me and Ed Clancy could stay at his place, so we stayed there for the winter of 2005-2006.
?I was still on the junior team, but even then it was still about numbers. There were some people who knew about bike racing. Heiko Salzwedel said to me when I was 15, ?You?re going to be the next Robbie McEwen.?
?He was in charge then, overlooking the whole programme, and he gave me a chance. Simon Lillistone and Marshall Thomas would say I couldn?t ride the Europeans, because I wasn?t producing the numbers, but Heiko would argue that it was not about numbers but getting the fastest riders.?
And Cavendish was certainly among the fastest riders, as he progressed from the GB Academy to a neo-pro contract with Sparkasse, to his first pro contract with T-Mobile.
Salzwedel?s brief period with BC ended with talk of clashes with riders, but Cavendish was not one of them. He is pleased the German is returning to the BC coaching set-up after a successful stint working with the Danish team.
?I get on brilliant with Heiko. He got me my contract with T-Mobile. We keep in contact all the time. I?m made up he is coming back to the federation. I have got a lot to thank him for.?
RELATED LINKS
Mark Cavendish: Rider Profile
Cycling Weekly's list of all-time British pro winners
Rides: Isle of Man with Mark Cavendish and Jonny Bellis
Thank you for reading 10 articles this month* Join now for unlimited access
Enjoy your first month for just £1 / $1 / €1
*Read 5 free articles per month without a subscription
Join now for unlimited access
Try first month for just £1 / $1 / €1
Founded in 1891, Cycling Weekly and its team of expert journalists brings cyclists in-depth reviews, extensive coverage of both professional and domestic racing, as well as fitness advice and 'brew a cuppa and put your feet up' features. Cycling Weekly serves its audience across a range of platforms, from good old-fashioned print to online journalism, and video.