Milan-San Remo route changed: official
Pompeiana climb removed from route of 2014 Milan-San Remo due to weather-damaged roads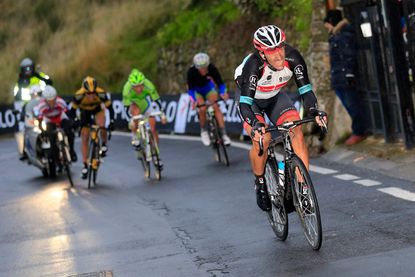 The 2014 editon of Milan-San Remo will not include the Pompeiana climb, after the road surface was deemed beyond repair before the race on March 23.
Milan-San Remo organiser RCS Sport met with representatives of the Province of Imperia which contains the climb on Friday (February 28), and agreed to remove it from the race route for reasons of safety.
Recent adverse weather conditions have damaged the road surface on Pompeiana, with no chance of them being repaired and made race-ready for the event. With continued poor weather forecast, it was decided that there could be no guarantee that the road would not deteriorate further.
The route will now follow almost exactly the same format as the 2007 edition, and will appeal to sprinters rather than climbers. Chris Froome (Sky) has already said that the revised route is not for him, but it does open the possibility of 2009 winner Mark Cavendish (Omega Pharma-QuickStep) appearing on the start line and being in contention.
The inclusion of Pompeiana had upset some of the sprinters, with Filippo Pozzato telling Cycling Weekly: ""I liked the race how it was. You can't change every race to create something hard. It's only right that the sprinters have their races as well."
Mauro Vegni, Head of RCS Sport Cycling said in a statement issued on Friday: "In view of the current weather conditions, and also considering the damage that the bad weather has caused in recent months, we felt that there was no way we could secure the roads in time for the race.
"I'd like to thank the Institutions for their help. Thanks to their work, we've been able to announce the route change today so that riders, teams and everyone involved in the event has time to take on-board the alterations.
"The race route planned for this year (including Pompeiana climb), will be repeated in the next, hoping not to encounter the same problems even in 2015."
Omega Pharma-QuickStep team waiting to hear decision on Milan-San Remo course change before selecting Mark Cavenbdish
Road surface on Pompeiana climb cannot be repaired in time for Milan-San Remo, opening way for sprinters to contend
"I liked the race how it was" says Filippo Pozzato in reaction to changes in Milan-San Remo route for 2014
Thank you for reading 5 articles this month* Join now for unlimited access
Enjoy your first month for just £1 / $1 / €1
*Read 5 free articles per month without a subscription
Join now for unlimited access
Try first month for just £1 / $1 / €1