Mark Cavendish on standby for Milan-San Remo
Omega Pharma-QuickStep team waiting to hear decision on Milan-San Remo course change before selecting Mark Cavenbdish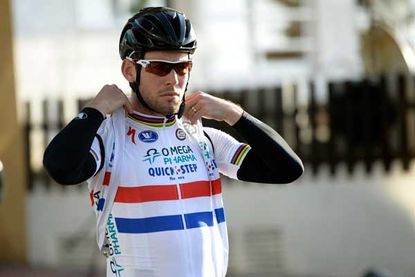 Team Omega Pharma-QuickStep has Mark Cavendish on standby for Milan-San Remo next month. It waits to hear the organiser's decision after the local government said that the race must skip the Pompeiana climb.
"I think Mark's open to returning to Milan-San Remo," sports director, Davide Bramati told Cycling Weekly. "We need an official press release or something from [organiser] RCS Sport before we make the call and talk."
Cavendish won in his debut in 2009 and raced every year since. However, he said that he would skip the 2014 edition after the organiser announced in September it would route the riders off the seaside road and five kilometres up into the hills. The Pompeiana climb, named after the village it passes midway up, comes after the Cipressa, before the Poggio and leaves the sprinters little breathing room.
"I won't take part," Cavendish told La Gazzetta dello Sport newspaper in December. "And if the route remains the way it is, maybe I'll never race it again. My 2009 win is destined to remain the only one."
With the Pompeiana in, climbers like Vincenzo Nibali (Astana) and Chris Froome (Sky) targeted this year's event scheduled for March 23. That may change in the next week due to the condition of the SP51 road that travels down from Pompeiana to the coast.
"This road isn't safe enough to allow an event of this level," Michele Russo, director of roads and transport for the Imperia province, told Cycling Weekly this morning. "The race is going to have to use the route it always has. We don't have a solution unfortunately."
Russo said that the road has many potholes and damaged guard rails. Recent showers caused a landslide and forced the province to close the road to local traffic. He explained it could reopen it this weekend but the province decided it is too risky and wrote RCS Sport saying that Milan-San Remo is unable to pass.
"I spoke about it with [Omega DS] Wilfried Peeters this morning," Bramati said. "For sure, if they take out the Pompeiana, all the teams will have to rethink their plans."
The race traditionally climbs the Turchino Pass to arrive to the coast. Since 2008, it climbed La Mànie and then continued along Via Aurelia for San Remo by climbing the three capi – Mele, Cervo, Berta – and heading inland briefly for the Cipressa and Poggio.
"We need to see what RCS Sport does," Bramati added. "Maybe they will take the historic route, even without La Mànie. I think all the teams would change their plans and the sprinters would be back in the game."
Road surface on Pompeiana climb cannot be repaired in time for Milan-San Remo, opening way for sprinters to contend
"I liked the race how it was" says Filippo Pozzato in reaction to changes in Milan-San Remo route for 2014
Thank you for reading 5 articles this month* Join now for unlimited access
Enjoy your first month for just £1 / $1 / €1
*Read 5 free articles per month without a subscription
Join now for unlimited access
Try first month for just £1 / $1 / €1